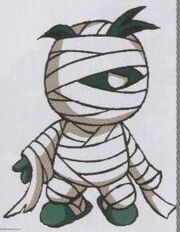 Mummy (ミイラ?) is a demon in the series.
A mummy is a body of a human or an animal preserved through different kind of methods so that it would not decay over time. Although most people associate mummies with Egypt, mummies were found all around the world and the oldest one ever found was in South America. Mummies were also very used as an undead "monster" in several horror movies in the earlier 20th century.
Appearances
Edit
Devil Children Black/Red BookEdit
Rank fusing Ghoul seven times can have him rank up into Mummy.
DemiKids Light & DarkEdit
"

Guardian demon of an ancient tomb in which an emperor has been laid to rest.

"
—DemiKids Demonary
Mummy has the power Plague, which sometimes poisons foes.
Megami TenseiEdit
Kyūyaku Megami TenseiEdit
Megami TenseiEdit
| Race | Level | HP | MP | VIT | INT | STR | SPD | LUC | DEF |
| --- | --- | --- | --- | --- | --- | --- | --- | --- | --- |
| Foul | 30 | 140 | - | 9 | 11 | 13 | 13 | 10 | 9 |
Swd
Gun
Fir
Ice
Elc
Exp
For
Bnd
Crs
Nrv
Mnd

6

/

8

2

/

8
-

2

/

8
Dr
2.5×

7

/

8

6

/

8
Nu
Nu
-
Devil Children Black/Red BookEdit
| Class | Element | Type | Level | HP | MP | Exp |
| --- | --- | --- | --- | --- | --- | --- |
| Common | Earth | Ogre | 32 | 345 | 143 | 426 |
| ATK | DEF | MGC | RES | SPD | LCK |
| --- | --- | --- | --- | --- | --- |
| 29 | 28 | 25 | 27 | 25 | 26 |
Devil Children Black Book/Red Book (PS)Edit
| Class | Element | Type | Level | HP | MP | Exp |
| --- | --- | --- | --- | --- | --- | --- |
| Common | Earth | Ogre | 32 | 345 | 143 | 426 |
| ATK | DEF | MGC | RES | SPD | LCK |
| --- | --- | --- | --- | --- | --- |
| 29 | 28 | 25 | 27 | 25 | 26 |
Devil Children White BookEdit
| Class | Element | Type | Level | HP | MP | Exp |
| --- | --- | --- | --- | --- | --- | --- |
| Common | Earth | Ogre | 32 | 345 | 143 | 426 |
| ATK | DEF | MGC | RES | SPD | LCK |
| --- | --- | --- | --- | --- | --- |
| 29 | 28 | 25 | 27 | 25 | 26 |
DemiKids Light & DarkEdit
| Class | Element | Type | Level | HP | MP | Exp |
| --- | --- | --- | --- | --- | --- | --- |
| Common | Earth | Ogre | 40 | 432 | 185 | 629 |

| ATK | DEF | MGC | RES | SPD | LCK |
| --- | --- | --- | --- | --- | --- |
| 38 | 34 | 36 | 35 | 28 | 32 |
List of Skills

Skill
Element
Cost
Effect
Petraburst
Earth
10 MP
Medium dmg. 1 Foe
Venom
Dark
6 MP
Poison. 1 Foe
Ice Breath
Ice
23 HP
Small dmg +Freeze. 2 Foes
Mystic Bind
Dark
6 MP
Paralyze. 1 Foe
Silence
Dark
6 MP
Mute. 1 Foe
Gaia Crush
Earth
25 HP
Small dmg +DEF Down. Foes
Power

Power
Type
Effect
Plague LV1
Other
Toxins sometimes poison a foe
Devil Children Fire/Ice BookEdit
| Class | Element | Type | Level | HP | MP | Exp |
| --- | --- | --- | --- | --- | --- | --- |
| Common | Earth | Ogre | 40 | 432 | 185 | 629 |

| ATK | DEF | MGC | RES | SPD | LCK |
| --- | --- | --- | --- | --- | --- |
| 38 | 34 | 36 | 35 | 28 | 32 |