Ad blocker interference detected!
Wikia is a free-to-use site that makes money from advertising. We have a modified experience for viewers using ad blockers

Wikia is not accessible if you've made further modifications. Remove the custom ad blocker rule(s) and the page will load as expected.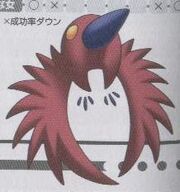 Munin (ムニン, Munin) is a demon in the series.
Munin and Hugin are a pair of ravens associated with the Norse god Odin . Munin travels the world bearing news and information to Odin. Munin's name means "memory". Munin is sent out at dawn to gather information and returns in the evening. He perches on the god's shoulders and whispers the news into his ears.
Appearances
Edit
| Race | Level | HP | MP | Movement | Move Type | Range | Arcana |
| --- | --- | --- | --- | --- | --- | --- | --- |
| | 9 | 55 | 35 | 8 | Flight | 1 | Clairvoyance |
| Strength | Intellect | Magic | Vitality | Agility | Luck | Attack | Defense | Mag.Def. |
| --- | --- | --- | --- | --- | --- | --- | --- | --- |
| 10 | 8 | 8 | 5 | 11 | 7 | 27 | 9 | 10 |
Resistances
Sl
St
Rn
Fi
Ic
El
Li
Dk
Al
B
B
C
B
B
B
B
S
C
Devil Children Fire/Ice BookEdit
| Class | Element | Type | Exp | Level | HP | MP |
| --- | --- | --- | --- | --- | --- | --- |
| Common | Light | Bird | 268 | 25 | 259 | 141 |

| ATK | DEF | MGC | RES | SPD | LCK |
| --- | --- | --- | --- | --- | --- |
| 24 | 22 | 21 | 20 | 24 | 20 |