Ad blocker interference detected!
Wikia is a free-to-use site that makes money from advertising. We have a modified experience for viewers using ad blockers

Wikia is not accessible if you've made further modifications. Remove the custom ad blocker rule(s) and the page will load as expected.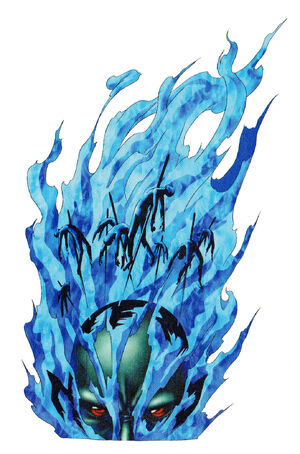 Muspell (ムスッペル?) is a demon in the series.
In Norse mythology, Muspelheim ("Flame land"), also called Múspell, is a realm of fire. This realm is one of the Nine Worlds and it is home to the Fire Demons or the Sons of Muspell, and Surt, their ruler. It is fire; and the land to the North, Niflheim, is ice. The two mixed and created water from the melting ice in Ginnungagap.
According to the Ragnarok prophecies in Snorri Sturluson's Gylfaginning, the first part of his Prose Edda, the sons of Muspel will break the Bifrost bridge, signaling the end of times.
Appearances
Edit
Shin Megami Tensei III: NocturneEdit
Muspell appears as a Dark elemental Magatama in Shin Megami Tensei III: Nocturne, it can be obtained once the Demi-fiend defeats Mara in Shibuya Center. It focuses on inflicting mental ailments. To unlock this battle, you must go to the strip mall in Shibuya at full Kagutsuchi phase. Once there, you must answer "Hurry it up." to the manikins you encounter.
Devil Summoner: Raidou Kuzunoha vs. The Soulless ArmyEdit
"A fire giant of Norse mythology. Said to live in the flaming land of Muspellheim.
He stays away from the humans and the gods, but during Ragnarok, he will invade the human world."
—Devil Summoner: Raidou Kuzunoha vs. The Soulless Army Devil Chart
Devil Children Ice BookEdit
Muspelheim is the world of Fire and Light in the Devil Children games. It is ruled by the Flame Apostle chosen by Shugoshin. The angels who inhabit it are in an endless war with the demons of Niflheim.
Shin Megami Tensei: if...Edit
| CP | NOA | ATK | ACC | DEF | EVA | M.ATK | M.EFC |
| --- | --- | --- | --- | --- | --- | --- | --- |
| 57 | 1 | 162 | 98 | 136 | 93 | 17 | 13 |

| | | |
| --- | --- | --- |
| St | 28 | |
| In | 10 | |
| Ma | 15 | |
| Vi | 15 | |
| Ag | 10 | |
| Lu | 9 | |
List of Skills

Skill
Cost
Effect
Agidyne
15 MP
Heavy Fire damage to a single foe
Maragidyne
20 MP
Heavy Fire damage to all foes.
Makarakarn
6 MP
Shields against Magical attacks for one turn, all allies.
Fire Wall
4 MP
Nullifies Fire attacks for one turn.
Heat Wave
10% HP
Medium Sword damage to 2-3 foes.
Shin Megami Tensei III: NocturneEdit
Focuses on learning status magic.
Element
Wild Effects

| | | |
| --- | --- | --- |
| Strength | -- | |
| Magic | +8 | |
| Vitality | +7 | |
| Agility | -- | |
| Luck | -- | |

Dark
Hero cursed or fully healed
| Reflects | Absorbs | Void | Resists | Weak |
| --- | --- | --- | --- | --- |
| - | - | - | Nerve/Mind | - |
List of Skills

Skill
Cost
Effect
Level
Tentarafoo
15 MP
Medium mind damage and 20% panic to all foes.
49
Makajamon
11 MP
20% mute to all foes. Curse-type.
53
Xeros Beat
40% HP
Medium physical damage to all foes. Medium critical rate.
56
Devil Summoner: Soul HackersEdit
| Race | Level | HP | MP | St | In | Ma | En | Ag | Lu |
| --- | --- | --- | --- | --- | --- | --- | --- | --- | --- |
| Jirae | 67 | 549 | 199 | 14 | 11 | 22 | 18 | 12 | 7 |

| CP | MAG Summon | Personality | P.ATK | P.HIT | B.DEF | AVD | M.ATK | M.HIT |
| --- | --- | --- | --- | --- | --- | --- | --- | --- |
| 14 | 1064 | Calm | 162 | 104 | 186 | 103 | 184 | 44 |
| Reflects | Absorbs | Void | Resists | Weak |
| --- | --- | --- | --- | --- |
| Fire | - | Expel | - | Ice |
Devil Summoner: Raidou Kuzunoha vs The Soulless ArmyEdit
| Order | Level | HP | MP | St | Ma | Vi | Lu | MAG Cost | Investigation |
| --- | --- | --- | --- | --- | --- | --- | --- | --- | --- |
| Pyro | 54 | 620 | 342 | 34 | 15 | 15 | 9 | 214 | Ignite |
| Confinable | Reflects | Absorbs | Block | Resists | Weak |
| --- | --- | --- | --- | --- | --- |
| Yes | - | Fire | - | - | Ice |
List of Skills

Skill
Cost
Effect
Level
Agidyne
7 MP
Heavy Fire damage to a near target. (Straight line)
Innate
Fire Breath
Combo
Heavy Fire damage to all in the straight line.
55
Devil Summoner 2: Raidou Kuzunoha vs King AbaddonEdit
| Order | Level | HP | St | Ma | Vi | Lu | Conversation | Investigation |
| --- | --- | --- | --- | --- | --- | --- | --- | --- |
| Pyro | 50 | 596 | 28 | 18 | 16 | 8 | Debate | Ignite |
| Reflects | Absorbs | Block | Resists | Weak | Frail |
| --- | --- | --- | --- | --- | --- |
| - | Fire | - | - | - | Ice |
List of Skills

Skill
Cost
Effect
Level
Agidyne
18 MAG
Heavy Splash Fire dmg. Stun: Long
Innate
Fire Breath
34 MAG
Heavy Piercing multi-hit Fire dmg. Stun: Med
51
Null Fire
45 MAG
Briefly nullify Fire dmg. All allies
52
Fire Boost
Passive
Increase Fire attack dmg
Max Loyalty