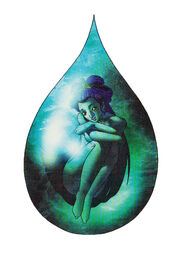 Nakisawame (ナキサワメ) is a recurring demon in the series.
Nakisawame is a goddess born from the tears of Izanagi after Izanami died from the burns on her body while giving birth to Kagutsuchi. Nakisawame is the patron deity of wells and the wells with her blessing are said to always bear clean, pure water.
Appearances
Edit
Devil Summoner: Raidou Kuzunoha vs. The Soulless ArmyEdit
Nakisawame appears in the Dark Realm and will heal Raidou and his demons for a price. However, the price will vary by the phase of the moon. She appears to be constantly upset and pleads for Raidou to make sure that he doesn't die.
Devil Summoner: Raidou Kuzunoha vs. King AbaddonEdit
Like the previous game she heals Raidou and his demons in the Dark Realm, but now she also restores MAG.
Shin Megami Tensei: Devil SummonerEdit
| Strength | Intelligence | Magic | Endurance | Agility | Luck |
| --- | --- | --- | --- | --- | --- |
| 7 | 8 | 13 | 7 | 12 | 11 |
| Personality | Phys Attack | Phys Hit | Base Defense | Avoid | Mgc Attack | Mgc Defense |
| --- | --- | --- | --- | --- | --- | --- |
| Cowardly | 80 | 64 | 80 | 65 | 30 | 31 |