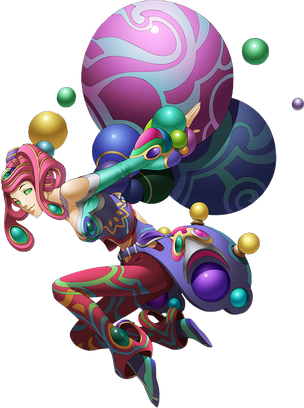 Napaea (ナパイア, napaia, plural "Napaeae") is a demon in the series.
Napaeae are a breed of Nymph from Greek lore. Meaning "wooden dell" in Greek, they were said to live in wooded valleys, glens or grottoes.
Appearances
Edit
Shin Megami Tensei IVEdit
"

Nymphs of Greek lore said to live in wooded valleys. They are beautiful young maidens wearing graceful garments, long hair, and a gold ring on their heads as they sing and dance. They are worshipped as providers who make flowers bloom, watch over livestock, assist with hunts, and heal illnesses, among other things. They can also attack the wicked at times. Those who drink from the springs of Napaea are given the gift of prophecy.

"
—Shin Megami Tensei IV Profile
Shin Megami Tensei IV ApocalypseEdit
Napaea now resides in the Faeries Forest. Voiced by Rei Matsuzaki.
Shin Megami Tensei IVEdit
Race

Level

HP

MP

| | | |
| --- | --- | --- |
| Strength | 8 | |
| Dexterity | 8 | |
| Magic | 8 | |
| Agility | 9 | |
| Luck | 8 | |

Fairy
2
57
54
| Phys | Gun | Fire | Ice | Elec | Force | Light | Dark |
| --- | --- | --- | --- | --- | --- | --- | --- |
| - | - | - | Weak | - | Resist | - | - |
| | |
| --- | --- |
| Normal Attack | Physical, one hit, one enemy |
List of Skills

Skill
Cost
Effect
Level
Dia
5 MP
Restores small amount of HP to one ally.
Innate
Zan
5 MP
Weak force damage to one foe.
3
Resist Ice
Auto
Reduces ice damage.
5
Shin Megami Tensei IV ApocalypseEdit
Race

Level

HP

MP

| | | |
| --- | --- | --- |
| Strength | 14 | |
| Dexterity | 11 | |
| Magic | 24 | |
| Agility | 25 | |
| Luck | 20 | |

Fairy
12
130
113
| Phys | Gun | Fire | Ice | Elec | Force | Light | Dark |
| --- | --- | --- | --- | --- | --- | --- | --- |
| - | - | - | Weak | - | Resist | - | - |
| | |
| --- | --- |
| Ailment Resistance | Resist: Charm |
| | |
| --- | --- |
| Normal Attack | Phys x1, 1 enemy |
List of Skills

Skill
Cost
Effect
Level
Marin Karin
5 MP
50% charm to one foe.
Innate
Zan
5 MP
Weak force damage to one foe.
Innate
Resist Ice
Auto
Reduces ice damage.
13
Agi
5 MP
Weak fire damage to one foe.
14
Zanma
10 MP
Medium force damage to one foe.
15