Ad blocker interference detected!
Wikia is a free-to-use site that makes money from advertising. We have a modified experience for viewers using ad blockers

Wikia is not accessible if you've made further modifications. Remove the custom ad blocker rule(s) and the page will load as expected.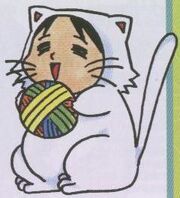 Neko no Namamono (ネコのナマモノ, Nekononamamono) is a demon in the series.
Neko no Namamono is actually a caricature of Ozawa Chips, an editor and main character of video game parody manga "Dokibagu".
Appearances
Edit
Devil Children Black/Red BookEdit
Neko no Namamono can be found in Forest Land's Bed Town.
Devil Children: Black/Red BookEdit
| Class | Element | Type | Exp | Level | HP | MP |
| --- | --- | --- | --- | --- | --- | --- |
| Common | Fire | Fiend | 194 | 21 | 220 | 92 |
| ATK | DEF | MGC | RES | SPD | LCK |
| --- | --- | --- | --- | --- | --- |
| 28 | 18 | 17 | 14 | 17 | 14 |
Devil Children Black Book/Red Book (PS)Edit
| Class | Element | Type | Exp | Level | HP | MP |
| --- | --- | --- | --- | --- | --- | --- |
| Common | Fire | Fiend | 194 | 21 | 220 | 92 |
| ATK | DEF | MGC | RES | SPD | LCK |
| --- | --- | --- | --- | --- | --- |
| 28 | 18 | 17 | 14 | 17 | 14 |
Devil Children: White BookEdit
| Class | Element | Type | Exp | Level | HP | MP |
| --- | --- | --- | --- | --- | --- | --- |
| Common | Fire | Fiend | 194 | 21 | 220 | 92 |
| ATK | DEF | MGC | RES | SPD | LCK |
| --- | --- | --- | --- | --- | --- |
| 28 | 18 | 17 | 14 | 17 | 14 |