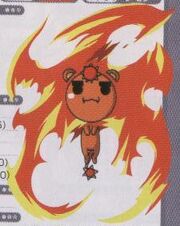 Nemea (ネメア?) is a demon in the series.
The Nemean Lion, which is a vicious mythical beast that lived in Nemea. Heracles first labor given by King Eurystheus was to skin the lion and bring the skin back to him. His hide was impervious to weapons and the lions claws were sharp enough to cut through armor.
Appearances
Edit
DemiKids Light/Dark VersionEdit
"With a mane of flaming locks, this demon can repel arrows, clubs, and other weapons."
Resurrecting a Nemeazom by fusing it with Nemea Soul revives the demon as Nemea.
"Fire-maned demon who awoke from a long sleep. It has yet to recover all its powers."
Nemeazom can be made by fusing several specific relics together.
Devil Children Messiah RiserEdit
Jin must protect Nemea during the first mission in Fire Makai, where demons of the Imperium attempt to kill Nemea as he travels through the village. In gratitude for saving him, Nemea joins the party.
DemiKids: Light & Dark VersionEdit
| Class | Element | Type | Exp | Level | HP | MP |
| --- | --- | --- | --- | --- | --- | --- |
| Elite | Fire | Beast | 341 | 28 | 288 | 135 |

| ATK | DEF | MGC | RES | SPD | LCK |
| --- | --- | --- | --- | --- | --- |
| 23 | 24 | 27 | 23 | 24 | 22 |
List of Skills

Skill
Element
Cost
Effect
Glow
Light
10 MP
Small dmg. 1 Foe
Holy Flare
Light
15 HP
Small dmg. 1 Foe
Pyrolok
Fire
15 MP
Large dmg. 1 Foe
Spellboost
Light
6 MP
MGC Up. Party
Pyro Bomb
Fire
20 HP
Medium dmg +Bomb. 2 foes
Healmax All
Light
30 MP
Max HP recovery. Party
| Class | Element | Type | Exp | Level | HP | MP |
| --- | --- | --- | --- | --- | --- | --- |
| Elite | Fire | Zombie | 175 | 20 | 212 | 95 |

| ATK | DEF | MGC | RES | SPD | LCK |
| --- | --- | --- | --- | --- | --- |
| 18 | 15 | 19 | 14 | 17 | 15 |
List of Skills

Skill
Element
Cost
Effect
Pyro
Fire
5 MP
Small dmg. 1 Foe
Fire Breath
Fire
23 HP
Small dmg. Foes
Bite
Light
15 HP
Small dmg. 1 foe
TNT
Dark
6 MP
Bomb. 1 Foe
Defboost
Light
6 MP
DEF Up. Party
Pyrodeus
Fire
8 MP
Small dmg. 2 Foes
Devil Children Fire/Ice BookEdit
| Class | Element | Type | Exp | Level | HP | MP |
| --- | --- | --- | --- | --- | --- | --- |
| Elite | Fire | Zombie | 175 | 20 | 212 | 95 |

| ATK | DEF | MGC | RES | SPD | LCK |
| --- | --- | --- | --- | --- | --- |
| 18 | 15 | 19 | 14 | 17 | 15 |
ResurrectedEdit
| Class | Element | Type | Exp | Level | HP | MP |
| --- | --- | --- | --- | --- | --- | --- |
| Elite | Fire | Beast | 341 | 28 | 288 | 135 |

| ATK | DEF | MGC | RES | SPD | LCK |
| --- | --- | --- | --- | --- | --- |
| 23 | 24 | 27 | 23 | 24 | 22 |
Devil Children Messiah RiserEdit
| Number | Element | Weakness | Type | Level | HP | MP |
| --- | --- | --- | --- | --- | --- | --- |
| 45 | Fire | Water | | 19 | 185 | 75 |
| ATK | MGC | DEF | RES | SPD | Quick | Call | Spell |
| --- | --- | --- | --- | --- | --- | --- | --- |
| 13 | 13 | 6 | 6 | 10 | 26 | 15 | Maragi |