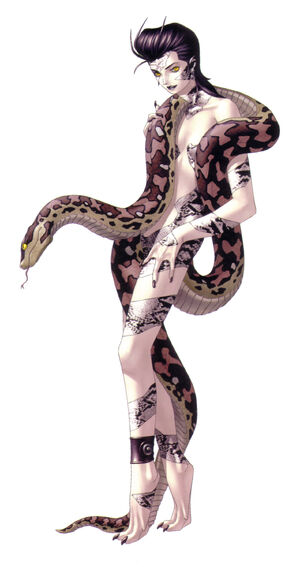 Night (夜魔, Yama)? is a race of demons in the Shin Megami Tensei series.
Night demons are demons, spirits, and lesser deities associated with the night. They often use deception to drain the life out of their victims (Succubus and Incubus are perfect examples). They are powerful spellcasters that rely on curses and ailments to make up for their weak physical attacks.
Appearances
Edit
List of Demons
Edit
Megami TenseiEdit
Megami Tensei IIEdit
Shin Megami TenseiEdit
*Appears only in the Sega CD remake
Shin Megami Tensei IIEdit
Shin Megami Tensei: if...Edit
Shin Megami Tensei: 20XXEdit
Shin Megami Tensei NINEEdit
Shin Megami Tensei III: NocturneEdit
Shin Megami Tensei IMAGINEEdit
Shin Megami Tensei: Strange JourneyEdit
Shin Megami Tensei IVEdit
Shin Megami Tensei IV ApocalypseEdit
Majin Tensei II: Spiral NemesisEdit
Shin Megami Tensei: Devil SummonerEdit
Devil Summoner: Soul HackersEdit
Giten Megami Tensei: Tokyo MokushirokuEdit
Megami Ibunroku PersonaEdit
Races (called Orders) are for enemies only, for demons used by the player, see Arcana.
Ad blocker interference detected!
Wikia is a free-to-use site that makes money from advertising. We have a modified experience for viewers using ad blockers

Wikia is not accessible if you've made further modifications. Remove the custom ad blocker rule(s) and the page will load as expected.