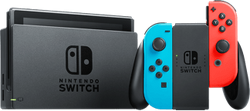 Nintendo Switch is a home game console developed by Nintendo. It is designed primarily as a home console, with the main unit inserted onto a docking station to connect to a television. Alternatively, it can be removed from the dock and used similarly to a tablet computer through its LCD touchscreen, or placed in a standalone tabletop mode playable by several people.
On January 12, 2017  Atlus announced two new Shin Megami Tensei projects for the Nintendo Switch and Nintendo 3DS coming soon.[1]
References
Edit
Ad blocker interference detected!
Wikia is a free-to-use site that makes money from advertising. We have a modified experience for viewers using ad blockers

Wikia is not accessible if you've made further modifications. Remove the custom ad blocker rule(s) and the page will load as expected.