Ad blocker interference detected!
Wikia is a free-to-use site that makes money from advertising. We have a modified experience for viewers using ad blockers

Wikia is not accessible if you've made further modifications. Remove the custom ad blocker rule(s) and the page will load as expected.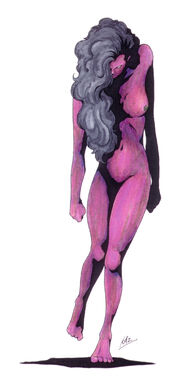 Obattarion (オバタリオン?) or Batarion (バタリオン?) is a demon in the series.
This creature seems to be based on the Japanese slang word "obatallion", which is a combination of the Japanese word "obaasan" (grandmother) and the English word battalion. The closest slang found within the English language would be an "old battle axe", which is used to describe angry, mean, and otherwise uncivil female old age pensioners who shoulder their way onto trains, buses, or into lines with no respect for the people already ahead of them. They are also known for terrorizing shop clerks, young people, or any other person who may somehow be heeding the old lady getting her own way as quickly as possible.
The term stems from the 1985 movie, "Life Force" which was called "Battallion" in Japan. It featured beautiful women turning into hideous monsters.
Appearances
Edit
Shin Megami TenseiEdit
"Origin: Tokyo. Middle-aged housewives turned into zombies. Even after death, their shameless actions remain the same. In fact, becoming zombies has made them act even more truly to their desires."
—Shin Megami Tensei A-Mode DDS Dictionary
Shin Megami TenseiEdit
| CP | NOA | ATK | ACC | DEF | EVA | M.ATK | M.EFC |
| --- | --- | --- | --- | --- | --- | --- | --- |
| 2 | ? | 13 | 4 | 11 | 4 | 6 | 6 |

| | | |
| --- | --- | --- |
| St | 4 | |
| In | 5 | |
| Ma | 5 | |
| Vi | 5 | |
| Ag | 3 | |
| Lu | 2 | |
| | | | |
| --- | --- | --- | --- |
| Resistances | Weak to Fire and Expel, resists Ice and Elec | Drop | Machete |
List of Skills

Skill
Cost
Effect
Call Ally
-
Summons reinforcement. (Enemy-only)
Venom Claw
Extra
Claws two enemies and Poisons them. (Dex-type)
Giten Megami Tensei: Tokyo MokushirokuEdit
| Race | Alignment | Level | HP | MP | CP |
| --- | --- | --- | --- | --- | --- |
| Undead | Dark-Neutral | 16 | 273 | 80 | 24 |

| Intuition | Will Power | Magic | Intelligence | Divine Protection |
| --- | --- | --- | --- | --- |
| 8 | 12 | 12 | 11 | 9 |

| Strength | Stamina | Agility | Dexterity | Charm |
| --- | --- | --- | --- | --- |
| 18 | 31 | 16 | 8 | 4 |