Ad blocker interference detected!
Wikia is a free-to-use site that makes money from advertising. We have a modified experience for viewers using ad blockers

Wikia is not accessible if you've made further modifications. Remove the custom ad blocker rule(s) and the page will load as expected.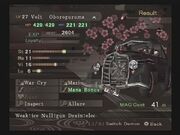 Oboroguruma (噂のオボログルマ?) is a demon in the series.
Oboroguruma means 'gloom cart' and was first seen on the streets of Kamo, Japan. It is a spirit being that is manifested from the grudges and negative energy of those that have died during disputes over vehicles. It appears during dark and foggy nights when all that can be heard is the creaking of its wheels, and should anyone be foolish enough to investigate, they are met by the grotesque visage of the Oboroguruma.
It was originally said to be the vengeful ghost of a lady killed over an ox-carriage, and it appeared as a carriage with a huge misshapen woman's face. Other variations of the story have been told in modern Japanese urban legend involving more modern vehicles.
Appearances
Edit
Devil Summoner: Raidou Kuzunoha vs. The Soulless ArmyEdit
"A monster-wheeled vehicle with the grudges and negative energy of people inside it.
Originally, the ghost of a woman who was killed over an ox-carriage took over the carriage."
—Devil Summoner Devil Chart
Oboroguruma attacks Raidou Kuzunoha the XIV over a misunderstanding on who was attacking cab drivers in Ginza-Cho. After the demon is defeated, he gives Raidou a rickshaw handle, which is an important clue in his investigation. This version of Oboroguruma, rather than an ox-cart, is represented as a ruined motor vehicle.
Devil Summoner 2: Raidou Kuzunoha vs. King AbaddonEdit
Oboroguruma appears as an optional boss during one of the Case Files that opens up during the first chapter of the game. He appears in Dark Tsukudo-cho and must be beaten in under 3 minutes. The reward for beating him is a Rusted Screw.
Devil Summoner 2: Raidou Kuzunoha vs. King AbaddonEdit
Ghost DriverEdit
| Order | Level | HP | St | Ma | Vi | Lu | Item drop |
| --- | --- | --- | --- | --- | --- | --- | --- |
| Volt | 10 | 3150 | 11 | 6 | 8 | 4 | - |
| Reflects | Absorbs | Block | Resists | Weak | Frail |
| --- | --- | --- | --- | --- | --- |
| - | Elec | Gun/Death/Mind | Ice/Fire | - | Force |
List of Skills

Skill
Effect
Rush
Light Phys dmg, dash attack +Dizzy(Low)
Mazio
Medium Elec dmg to an area. Stun: Med
Summonable Ally
Edit
| Order | Level | HP | St | Ma | Vi | Lu | Conversation | Investigation |
| --- | --- | --- | --- | --- | --- | --- | --- | --- |
| Volt | 31 | 464 | 20 | 11 | 15 | 4 | Fast Talk | Light Up/Inspect |
| Reflects | Absorbs | Block | Resists | Weak | Frail |
| --- | --- | --- | --- | --- | --- |
| - | Elec | Gun | Phys | - | Force |
List of Skills

Skill
Cost
Effect
Level
Ziorati
15 MAG
Light Elec dmg, 3-way spread. Stun: Med
Innate
Rush
24 MAG
Light Phys dmg, dash attack +Dizzy(Low)
32
Electric Crush
70 MAG
Mega Elec dmg to all. Stun: Short Type: Axe
33
Fast Escape
Passive
Escape quicker if skill holder is present
Max Loyalty