Ad blocker interference detected!
Wikia is a free-to-use site that makes money from advertising. We have a modified experience for viewers using ad blockers

Wikia is not accessible if you've made further modifications. Remove the custom ad blocker rule(s) and the page will load as expected.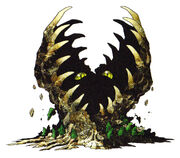 Ocelot (オセロット, Oserotto)? is a demon in the series.
The Aztecs and Native Americans revered the ocelot. Its name comes from the Aztec word tlalocelot, which means "tiger of the field". Tezcatlipoca was known to take the form of an ocelot. They represent the sun and day.
Appearances
Edit
DemiKids Light & DarkEdit
Shin Megami Tensei: Devil SummonerEdit
| Race | Level | HP | MP | St | In | Ma | Ag | Lu |
| --- | --- | --- | --- | --- | --- | --- | --- | --- |
| Jaki | 30 | 151 | 76 | 10 | 6 | 5 | 11 | 8 |

| CP | NOA | P.ATK | P.HIT | B.DEF | AVD | M.ATK | M.DEF |
| --- | --- | --- | --- | --- | --- | --- | --- |
| 23 | 1 | 80 | 60 | 74 | 59 | 13 | 25 |
Megami Ibunroku PersonaEdit
| Order | Type | Subtype | Level | HP | SP | Drops |
| --- | --- | --- | --- | --- | --- | --- |
| Jaki | Element | Fire | 35 | 350 | 245 | Blizzard Storm |

MAtk
MDef

| | | |
| --- | --- | --- |
| Strength | 40 | |
| Vitality | 25 | |
| Dexterity | 34 | |
| Agility | 19 | |
| Luck | 28 | |

79
39
1h
2h
Sp
Ax
Wp
Th
Ar
Fs
HG
MG
SG
Ri
Te
Ru
-
-
-
-
-
-
-
-
-
-
-
1.5×
-
-
Fi
Ic
Wi
Er
El
Nc
Bl
Gr
Ex
Mi
De
Cu
Nr
???

½

Rf
-

2

/

4

2

/

4
1.5×
1.5×
1.5×
1.5×
-
-
-
-

3

/

4

1

/

4
List of Skills

Skill
Effect
Agilao
Medium Fire damage (1 foe)

Inheritable Skill

Fire Wall
Party absorbs 50% Fire spells, 3 turns
Paral Eyes
Inflict Parayze status (1 foe)
MAtk
MDef

| | | |
| --- | --- | --- |
| Strength | 91 | |
| Vitality | 57 | |
| Dexterity | 66 | |
| Agility | 43 | |
| Luck | 64 | |

270
89
1h
2h
Sp
Ax
Wp
Th
Ar
Fs
HG
MG
SG
Ri
Te
Ru
-
-
-
-
-
-
-
-
-
-
-
1.5×
-
-
Fi
Ic
Wi
Er
El
Nc
Bl
Gr
Ex
Mi
De
Cu
Nr
???

½

Rf
-

2

/

4

2

/

4
1.5×
1.5×
1.5×
1.5×
-
-
-
-

3

/

4

1

/

4
List of Skills

Skill
Effect
Agilao
Medium Fire damage (1 foe)
Fire Wall
Party absorbs 50% Fire spells, 3 turns
Paral Eyes
Inflict Parayze status (1 foe)
DemiKids Light & DarkEdit
| Class | Element | Type | Level | HP | MP | Exp |
| --- | --- | --- | --- | --- | --- | --- |
| King | Ice | Beast | 44 | 474 | 203 | 831 |

| ATK | DEF | MGC | RES | SPD | LCK |
| --- | --- | --- | --- | --- | --- |
| 45 | 40 | 38 | 37 | 42 | 38 |
List of Skills

Skill
Element
Cost
Effect
Polarlok
Ice
15 MP
Large dmg +Freeze. 1 Foe
Healmax
Light
20 MP
Full HP recovery. 1 Ally
Chaos Foam
Water
25 HP
Medium dmg +Confuse. 2 Foes
Spellblock
Light
12 MP
Spell Reflect. Self
Paralyze
Dark
20 HP
Medium dmg +Paralyze. 1 Foe
Subzero
Ice
35 HP
Medium dmg +Freeze. Foes
Devil Children Fire/Ice BookEdit
| Class | Element | Type | Level | HP | MP | Exp |
| --- | --- | --- | --- | --- | --- | --- |
| King | Ice | Beast | 44 | 474 | 203 | 831 |

| ATK | DEF | MGC | RES | SPD | LCK |
| --- | --- | --- | --- | --- | --- |
| 45 | 40 | 38 | 37 | 42 | 38 |
List of Skills

Bufudyne
Diarahan
Rainbow Bubbles
Makarakarn
Paral Eyes
Intense Freezing