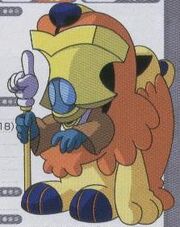 Ogma (オグマ, Oguma)? is a demon in series.
A minor warrior deity of strength and skill, he was a member of the Tuatha Dé Danann of Irish myth.
Appearances
Edit
DemiKids Light/Dark VersionEdit
"Cloaked in the hide of a lion, this ancient demon is gifted with a bounty of wisdom."
Known as Scout in the game, he has the power Alert, which prevents some enemy 1st hits. He is a reward given by Wartak in Dark Version.
Megami Ibunroku PersonaEdit
MAtk
MDef

| | | |
| --- | --- | --- |
| Strength | 18 | |
| Vitality | 34 | |
| Dexterity | 24 | |
| Agility | 13 | |
| Luck | 20 | |

79
99
1h
2h
Sp
Ax
Wp
Th
Ar
Fs
HG
MG
SG
Ri
Te
Ru
-
-
-
-
-
-
-
-
-
1.5×
-
-
-
-
Fi
Ic
Wi
Er
El
Nc
Bl
Gr
Ex
Mi
De
Cu
Nr
???
1.25×
Dr

2

/

4

2

/

4

2

/

4

2

/

4

2

/

4

2

/

4
Dr
Nu
2×
1.75×

3

/

4
Nu
List of Skills

Rank
Skill
Effect
1
Heat Wave
Heavy Sword damage (1 foe)
4
Sukunda
Lowers Hit Rate (all foes)
5
Dekunda
Remove stat penalties (all allies)
8
Crimson Sublation
Medium Fire damage (area)
DemiKids: Light & DarkEdit
| Class | Element | Type | Level | HP | MP | Exp |
| --- | --- | --- | --- | --- | --- | --- |
| King | Light | Good | 24 | 265 | 121 | 242 |

| ATK | DEF | MGC | RES | SPD | LCK |
| --- | --- | --- | --- | --- | --- |
| 22 | 21 | 25 | 20 | 17 | 18 |
List of Skills

Skill
Element
Cost
Effect
Petraburst
Earth
10 MP
Medium dmg. 1 Foe
Holy Mute
Light
18 HP
Small dmg +Mute. 2 Foes
Powerboost
Light
6 MP
ATK Up. Party
Petradeus
Earth
8 MP
Small dmg. 2 Foes
Healmor All
Light
18 MP
Major HP recovery. Party
Revive
Light
18 MP
Revive. 1 Ally
Devil Children Fire/Ice BookEdit
| Class | Type | Race | Level | HP | MP | Exp |
| --- | --- | --- | --- | --- | --- | --- |
| King | Light | Good | 24 | 265 | 121 | 242 |

| Attack | Guard | Magic | M Guard | Speed | Luck |
| --- | --- | --- | --- | --- | --- |
| 22 | 21 | 25 | 20 | 17 | 18 |