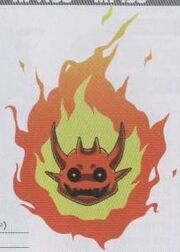 Onibi (オニビ or 鬼火, Onibi) is a demon in the series.
Onibi is another name for the Hitodama, which tend to show up in Japanese works of art (even in modern times, such as anime) to denote eeriness or a supernatural quality. They are usually said to be found near cemeteries and in gloomy forests. They are allegedly sometimes seen close to a dying person as an apparition of the soul leaving the body before going to the other side.
Appearances
Edit
DemiKids Light/Dark VersionEdit
"A fireball that appears in graveyards. Believed to be a guide to the netherworld."
Known as Demipyre, he can perform the combo Fire Flare with Orthos. Demipyre also has the power FireBoost.
Giten Megami Tensei: Tokyo MokushirokuEdit
| CP | Intuition | Will Power | Magic | Intelligence | Divine Protection |
| --- | --- | --- | --- | --- | --- |
| 6 | 6 | 8 | 9 | 8 | 5 |

| Strength | Stamina | Agility | Dexterity | Charm |
| --- | --- | --- | --- | --- |
| 5 | 9 | 8 | 6 | 6 |
Devil Children: Black/Red BookEdit
| Class | Element | Type | Exp | Level | HP | MP |
| --- | --- | --- | --- | --- | --- | --- |
| Common | Fire | Ghost | 98 | 15 | 158 | 58 |
| ATK | DEF | MGC | RES | SPD | LCK |
| --- | --- | --- | --- | --- | --- |
| 15 | 13 | 12 | 11 | 14 | 12 |
Devil Children Black Book/Red Book (PS)Edit
| Class | Element | Type | Exp | Level | HP | MP |
| --- | --- | --- | --- | --- | --- | --- |
| Common | Fire | Ghost | 98 | 15 | 158 | 58 |
| ATK | DEF | MGC | RES | SPD | LCK |
| --- | --- | --- | --- | --- | --- |
| 15 | 13 | 12 | 11 | 14 | 12 |
Devil Children: White BookEdit
| Class | Element | Type | Exp | Level | HP | MP |
| --- | --- | --- | --- | --- | --- | --- |
| Common | Fire | Ghost | 98 | 15 | 158 | 58 |
| ATK | DEF | MGC | RES | SPD | LCK |
| --- | --- | --- | --- | --- | --- |
| 15 | 13 | 12 | 11 | 14 | 12 |
DemiKids Light/Dark VersionEdit
| Class | Element | Type | Exp | Level | HP | MP |
| --- | --- | --- | --- | --- | --- | --- |
| Common | Fire | Ghost | 140 | 18 | 184 | 79 |

| ATK | DEF | MGC | RES | SPD | LCK |
| --- | --- | --- | --- | --- | --- |
| 15 | 14 | 17 | 15 | 11 | 14 |
List of Skills

Skill
Element
Cost
Effect
Pyrodeus
Fire
8 MP
Small dmg. 2 Foes
Sacrifice
Fire
2 HP
Sacrifice. Foes
Silence
Dark
6 MP
Mute. 1 Foe
Pyroburst
Fire
10 MP
Medium dmg. 1 Foe
Cure
Light
6 MP
Cure. 1 Ally
Spellboost
Light
6 MP
MGC Up. Party
Devil Children Fire/Ice BookEdit
| Class | Element | Type | Exp | Level | HP | MP |
| --- | --- | --- | --- | --- | --- | --- |
| Common | Fire | Ghost | 140 | 18 | 184 | 79 |

| ATK | DEF | MGC | RES | SPD | LCK |
| --- | --- | --- | --- | --- | --- |
| 15 | 14 | 17 | 15 | 11 | 14 |