Ad blocker interference detected!
Wikia is a free-to-use site that makes money from advertising. We have a modified experience for viewers using ad blockers

Wikia is not accessible if you've made further modifications. Remove the custom ad blocker rule(s) and the page will load as expected.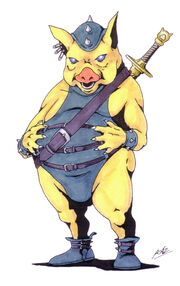 Orc (オーク?) is a demon in the series
In many fantasy works, such as those of J. R. R. Tolkien, orcs are very ugly humanoid creatures that are fierce and warlike. They originate from Tolkien's writings and they ride on boars or wolves. Their name is said to come from the Roman chthonic god Orcus.
Appearances
Edit
Shin Megami TenseiEdit
"Origin: Italy. Pig-headed demons that serve Orcus. These demi-humans of the Expanse are very close to humans. They think of nothing but their appetites and sexual desires. They often attack human settlements for food and women."
—Shin Megami Tensei A-Mode DDS Dictionary
An Orc can be seen in a lab in Shinjuku, greeting the Protagonist & his friends, mistaking them for demons in a human disguise. He then realizes that they are actually humans & fights them. Another Orc can be encountered, saying "Where did you come from!?"
Megami TenseiEdit
Megami Tensei IIEdit
| Stamina | Intelligence | Attack | Agility | Luck | Defense |
| --- | --- | --- | --- | --- | --- |
| 5 | 6 | 5 | 7 | 5 | 1 |
Kyūyaku Megami TenseiEdit
Megami TenseiEdit
| Race | Level | HP | MP | VIT | INT | STR | SPD | LUC | DEF |
| --- | --- | --- | --- | --- | --- | --- | --- | --- | --- |
| Jaki | 5 | 20 | - | 7 | 6 | 5 | 6 | 5 | 6 |
Swd
Gun
Fir
Ice
Elc
Exp
For
Bnd
Crs
Nrv
Mnd

6

/

8
-
-
-
-

3

/

8
-
-

6

/

8
-
-
Megami Tensei IIEdit
| Race | Level | HP | MP | VIT | INT | STR | SPD | LUC | DEF |
| --- | --- | --- | --- | --- | --- | --- | --- | --- | --- |
| Jaki | 3 | 10 | - | 5 | 6 | 5 | 7 | 5 | 1 |
Swd
Gun
Fir
Ice
Elc
Exp
For
Bnd
Crs
Nrv
Mnd

6

/

8
-
-
-
-

3

/

8
-
-

6

/

8
-
-
Shin Megami TenseiEdit
| CP | NOA | ATK | ACC | DEF | EVA | M.ATK | M.EFC |
| --- | --- | --- | --- | --- | --- | --- | --- |
| 8 | 1 | 39 | 11 | 23 | 9 | 6 | 5 |

| | | |
| --- | --- | --- |
| St | 12 | |
| In | 4 | |
| Ma | 5 | |
| Vi | 10 | |
| Ag | 8 | |
| Lu | 5 | |
| | | | |
| --- | --- | --- | --- |
| Resistances | Weak to Guns and Elec | Drop | Sanjiegun |
Swd
Gun
Fir
Ice
Elc
For
Nrv
Exp
Crs
Mgc
Bnd
Chg
Dex
Ndl
Alm
-
1.5×

7

/

8

7

/

8
1.5×
-
-
Nu
-
-
-

6

/

8
-
-
-
List of Skills

Skill
Cost
Effect
Dia
2 MP
Slightly restores one ally's HP.
Guard
-
Reduces damage taken by user. (Enemy-only)
Call Ally
-
Summons reinforcement. (Enemy-only)
Shin Megami Tensei: if...Edit
| CP | NOA | ATK | ACC | DEF | EVA | M.ATK | M.EFC |
| --- | --- | --- | --- | --- | --- | --- | --- |
| 4 | 1 | 34 | 20 | 26 | 19 | 4 | 4 |

| | | |
| --- | --- | --- |
| St | 8 | |
| In | 3 | |
| Ma | 3 | |
| Vi | 4 | |
| Ag | 4 | |
| Lu | 3 | |
Swd
Gun
Fir
Ice
Elc
For
Nrv
Exp
Crs
Mgc
Bnd
Rsh
Hnd
Leg
Fly
Alm
-
-
-
-
-
-
-
Nu

6

/

8
-
-
-
-
-
-
-
List of Skills

Skill
Cost
Effect
Dia
4 MP
Recovers a small amount of HP, one ally.
Pen Patra
4 MP
Removes all "light" status ailments, all allies.
Hell Fist
3% HP
Light Punch damage to one foe.
Heel Drop
4% HP
Light Kick damage to one foe.
Call Ally
-
Summon allies (Enemy only)
Last Bible IIIEdit
| Level | HP | MP | ATK | DEF | STR | INT | END | SPD | LUC |
| --- | --- | --- | --- | --- | --- | --- | --- | --- | --- |
| 6 | 54 | 18 | 15 | 14 | 9 | 6 | 10 | 9 | 7 |

| | | | |
| --- | --- | --- | --- |
| Equipment | Arms, Armor, Accessory | Card Location | Raga's Ship - Before Heat, Red Owl |
Giten Megami Tensei: Tokyo MokushirokuEdit
| Race | Alignment | Level | HP | MP | CP |
| --- | --- | --- | --- | --- | --- |
| Jaki | Dark-Law | 9 | 102 | 37 | 15 |

| Intuition | Will Power | Magic | Intelligence | Divine Protection |
| --- | --- | --- | --- | --- |
| 10 | 8 | 7 | 6 | 10 |

| Strength | Stamina | Agility | Dexterity | Charm |
| --- | --- | --- | --- | --- |
| 20 | 18 | 10 | 8 | 4 |