Ad blocker interference detected!
Wikia is a free-to-use site that makes money from advertising. We have a modified experience for viewers using ad blockers

Wikia is not accessible if you've made further modifications. Remove the custom ad blocker rule(s) and the page will load as expected.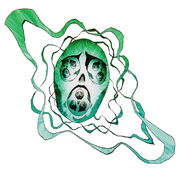 Orgone Ghost (オルゴンゴースト) is a recurring demon in the series.
Orgone Ghost is based on orgone energy, a discredited, fringe science theory originally proposed in the 1930s by Wilhelm Reich. Orgone energy is conceived as a biophysical universal life force and a massless, omnipresent sustance related to living energy. Orgone Ghost's design itself is similar to Salvador Dalí's Face of War.
Appearances
Edit
Shin Megami Tensei: Devil SummonerEdit
The Orgone Ghost is a demon that took over Toa TV Station and the nearby Radio Tower to drain the electrical power to become powerful. Madame Ginko tells the protagonist to defeat it. However, there are two ways to stop him: face him at the Radio Tower in his stronger form or defeat his three servants (Julia, Speedy, and Mikiya) in the TV Station's power room and then battle him in his weakened form.
1st Fight
Edit
| Race | Level | HP | MP | CP | NOA |
| --- | --- | --- | --- | --- | --- |
| Foul | 45 | 800 | 340 | | 0-2 |

| Strength | Intelligence | Magic | Endurance | Agility | Luck |
| --- | --- | --- | --- | --- | --- |
| 13 | 13 | 17 | 12 | 8 | 8 |
| Personality | Phys Attack | Phys Hit | Base Defense | Avoid | Mgc Attack | Mgc Defense |
| --- | --- | --- | --- | --- | --- | --- |
| - | 116 | 80 | 114 | 80 | 40 | 45 |
2nd Fight
Edit
| Race | Level | HP | MP | CP | NOA |
| --- | --- | --- | --- | --- | --- |
| Foul | 60 | 1200 | 540 | - | 0-2 |

| Strength | Intelligence | Magic | Endurance | Agility | Luck |
| --- | --- | --- | --- | --- | --- |
| 16 | 16 | 20 | 15 | 11 | 11 |
| Personality | Phys Attack | Phys Hit | Base Defense | Avoid | Mgc Attack | Mgc Defense |
| --- | --- | --- | --- | --- | --- | --- |
| - | 157 | 107 | 150 | 107 | 48 | 58 |