Ad blocker interference detected!
Wikia is a free-to-use site that makes money from advertising. We have a modified experience for viewers using ad blockers

Wikia is not accessible if you've made further modifications. Remove the custom ad blocker rule(s) and the page will load as expected.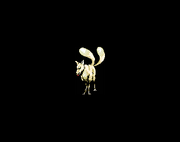 Osaki Gitsune (オサキ狐) is a demon in the series.
Occasionally referred to with the kanji 尾裂狐, 尾崎狐, or 御先狐, the Osaki Gitsune is a household spirit. While it is of the fox species, its appearance is notably similar to that of a weasel. Its name refers to the split in its tail. Families that it haunts are said to enjoy great prosperity.
Appearances
Edit
Giten Megami Tensei: Tokyo MokushirokuEdit
| Race | Alignment | Level | HP | MP | CP |
| --- | --- | --- | --- | --- | --- |
| Beast | Neutral-Neutral | 16 | 203 | 68 | 25 |

| Intuition | Will Power | Magic | Intelligence | Divine Protection |
| --- | --- | --- | --- | --- |
| 18 | 9 | 10 | 7 | 12 |

| Strength | Stamina | Agility | Dexterity | Charm |
| --- | --- | --- | --- | --- |
| 26 | 22 | 19 | 5 | 8 |