Ad blocker interference detected!
Wikia is a free-to-use site that makes money from advertising. We have a modified experience for viewers using ad blockers

Wikia is not accessible if you've made further modifications. Remove the custom ad blocker rule(s) and the page will load as expected.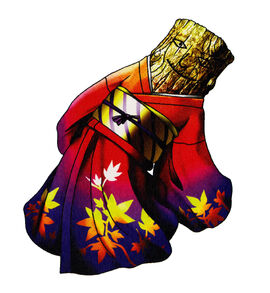 Oshira-sama (オシラサマ, Oshirasama)? is a demon in the series.
Appearances
Edit
Oshira sama is the Japanese name given to a pair of dolls venerated in the folkloric worship of an agricultural spirit in Tohoku (the northern half of Honshu). The dolls are made from mulberry wood, one in the shape of a woman, the other in the shape of a horse. A legend from the area tells this story of the woman and the horse:
Once upon a time there was a poor farmer. He had no wife but did have a beautiful daughter. He also had one horse. The daughter loved the horse, and at night she would go to the stable and sleep. Finally, she and the horse became husband and wife. One night the father learned of this, and the next day without saying anything to the daughter, he took the horse out and killed it by hanging it from a mulberry tree. That night the daughter asked her father why the horse was not anywhere around, and she learned of the act. Shocked, filled with grief, she went on to the spot beneath the mulberry tree and cried while clinging to the horse's head. The father, abhorring the sight, took an axe and chopped off the horse's head, which flew off to the heavens. It was from this time on that Oshira-sama became a kami. The representation of this kami was made from the mulberry branch on which the horse was hanged.
Devil Summoner: Soul HackersEdit
"

A god of the house and silkworms worshiped in northeast Japan. The goshintai is usually made of a pair of idols made from mulberry bark or bamboo, dressed in clothing called osendaku, and have faces painted or carved into them. In the festival for Oshira-sama, "Oshira-sama Asobi", a blind priestess known as an itako chants phrases while moving the two goshintai around. The phrases include the origin of Oshira-sama and the beginning of silkworms.

"
—Soul Hackers 3DS Compendium
Shin Megami Tensei: Devil SummonerEdit
| Race | Level | HP | MP | St | In | Ma | Ag | Lu |
| --- | --- | --- | --- | --- | --- | --- | --- | --- |
| Tree | 27 | 132 | 100 | 10 | 8 | 11 | 5 | 8 |

| CP | NOA | Personality | P.ATK | P.HIT | B.DEF | AVD | M.ATK | M.DEF |
| --- | --- | --- | --- | --- | --- | --- | --- | --- |
| 34 | 1 | Sly | 74 | 49 | 66 | 49 | 26 | 26 |
Devil Summoner: Soul HackersEdit
| Race | Level | HP | MP | St | In | Ma | En | Ag | Lu |
| --- | --- | --- | --- | --- | --- | --- | --- | --- | --- |
| Tree | 21 | 178 | 89 | 5 | 7 | 10 | 6 | 5 | 7 |

| CP | MAG Summon | Personality | P.ATK | P.HIT | B.DEF | AVD | M.ATK | M.HIT |
| --- | --- | --- | --- | --- | --- | --- | --- | --- |
| 3 | 166 | Kind | 52 | 41 | 70 | 39 | 86 | 24 |
| Reflects | Absorbs | Void | Resists | Weak |
| --- | --- | --- | --- | --- |
| - | - | Expel, Death | - | Fire |