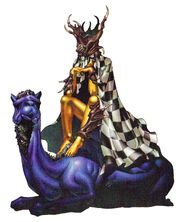 Paimon (パイモン*)? is a demon in the series.
According to the writings in The Lesser Key of Solomon, Paimon is the ninth spirit listed in the Goetia. He is a King of Hell ruling over the northwest with two hundred legions of demons under his command. He is noted to be especially loyal and obedient to Lucifer, far more than the other kings. He is depicted as a man with an effeminate face, wearing a jeweled crown and riding a dromedary camel.
He is often surrounded by his courtiers who play many musical instruments and speaks in a booming voice until the conjurer requests him to speak clearly. When summoned, unless he is first able to ask the conjurer what he wants and receive a clear answer, Paimon will not do their bidding. He is able to teach all sciences, arts and philosophy as well as speak of all the mysteries of the Earth, wind and water. He gives good familiars and can bestow and confirm dignities. He can also force any man to do the will of the conjurer.
Appearances
Edit
Devil Summoner: Soul HackersEdit
"

One of the 72 demons of the Goetia, he is called the "King of Dominions", and is depicted as a man with a woman's face, wearing a crown of jewels and riding a camel with a single hump. He is knowledgeable in the sciences, arts, and secrets, and can share that information in an instant, causing those who have gained his help to no longer put forth effort.

"
—Devil Summoner: Soul Hackers Compendium
Devil Children Red/Black BookEdit
Paimon attacks Mirai Kaname in Red Book to assassinate her in her master Lucifer's name. However, Veil takes a hit for her which makes Paimon decide to spare her for now out of honor of her demon partner taking a hit for her. She can later be recruited in the Pyramid.
Shin Megami Tensei: DeviChilEdit
Paimon is an antagonist alongside Vibhishana and Demogorgon in the second half of the series. She is later killed by Zebul near the end of the show.
DemiKids Light & DarkEdit
"

Mounted on a jewel-covered camel, this flashy demon is both loud and obnoxious.

"
—DemiKids Demonary
Paimon can perform the combo attack Shadow Break with Abaddon and Death Blade with Lucifer. Paimon has the special power Amazon Charm.
Devil Summoner: Soul HackersEdit
| Race | Level | HP | MP | St | In | Ma | En | Ag | Lu |
| --- | --- | --- | --- | --- | --- | --- | --- | --- | --- |
| Fallen | 52 | 404 | 164 | 12 | 7 | 21 | 10 | 10 | 9 |

| CP | MAG Summon | Personality | P.ATK | P.HIT | B.DEF | AVD | M.ATK | M.HIT |
| --- | --- | --- | --- | --- | --- | --- | --- | --- |
| 11 | 826 | Kind | 128 | 83 | 140 | 82 | 169 | 34 |
| Reflects | Absorbs | Void | Resists | Weak |
| --- | --- | --- | --- | --- |
| Ice | - | Death | - | Fire |
Megami Ibunroku PersonaEdit
| Order | Type | Subtype | Level | HP | SP | Drops |
| --- | --- | --- | --- | --- | --- | --- |
| Fallen | Dark | Death | 65 | 650 | 650 | Dark Wave Tablet |

MAtk
MDef

| | | |
| --- | --- | --- |
| Strength | 43 | |
| Vitality | 39 | |
| Dexterity | 49 | |
| Agility | 30 | |
| Luck | 24 | |

149
168
1h
2h
Sp
Ax
Wp
Th
Ar
Fs
HG
MG
SG
Ri
Te
Ru
-
-
2×
-
-
-
-
2×
1.5×
-
-
-
-
2×
Fi
Ic
Wi
Er
El
Nc
Bl
Gr
Ex
Mi
De
Cu
Nr
???

½

Rf

½

Rf

½

Rf

½

Rf

½

Rf

½

Rf

½

Rf

½

Rf
2×
2×

½

Rf

½

Rf
Rf

2

/

4
List of Skills

Skill
Effect
Maeiha
Heavy Death damage each turn (all foes)

Inheritable Skill

Moon Shatterer
Medium Whip damage (area)
Self-Destruct
Instant kill; user dies (1 foe)
Candy Voice
Inflicts Charm status (area)
MAtk
MDef

| | | |
| --- | --- | --- |
| Strength | 99 | |
| Vitality | 90 | |
| Dexterity | 80 | |
| Agility | 49 | |
| Luck | 55 | |

275
325
1h
2h
Sp
Ax
Wp
Th
Ar
Fs
HG
MG
SG
Ri
Te
Ru
-
-
2×
-
-
-
-
2×
1.5×
-
-
-
-
2×
Fi
Ic
Wi
Er
El
Nc
Bl
Gr
Ex
Mi
De
Cu
Nr
???

½

Rf

½

Rf

½

Rf

½

Rf

½

Rf

½

Rf

½

Rf

½

Rf
2×
2×

½

Rf

½

Rf
Rf

2

/

4
List of Skills

Skill
Effect
Maeiha
Heavy Death damage each turn (all foes)
Moon Shatterer
Medium Whip damage (area)
Self-Destruct
Instant kill; user dies (1 foe)
Candy Voice
Inflicts Charm status (area)
Devil Children Black/Red BookEdit
| Class | Element | Type | Level | HP | MP | Exp |
| --- | --- | --- | --- | --- | --- | --- |
| General | Thunder | Boss | 22 | 238 | 108 | 219 |
| ATK | DEF | MGC | RES | SPD | LCK |
| --- | --- | --- | --- | --- | --- |
| 21 | 19 | 20 | 19 | 19 | 18 |
Devil Children Black Book/Red Book (PS)Edit
| Class | Element | Type | Level | HP | MP | Exp |
| --- | --- | --- | --- | --- | --- | --- |
| General | Thunder | Boss | 22 | 238 | 108 | 219 |
| ATK | DEF | MGC | RES | SPD | LCK |
| --- | --- | --- | --- | --- | --- |
| 21 | 19 | 20 | 19 | 19 | 18 |
Devil Children White BookEdit
| Class | Element | Type | Level | HP | MP | Exp |
| --- | --- | --- | --- | --- | --- | --- |
| General | Thunder | Boss | 22 | 238 | 108 | 219 |
| ATK | DEF | MGC | RES | SPD | LCK |
| --- | --- | --- | --- | --- | --- |
| 21 | 19 | 20 | 19 | 19 | 18 |
DemiKids Light & DarkEdit
| Class | Element | Type | Level | HP | MP | Exp |
| --- | --- | --- | --- | --- | --- | --- |
| General | Ice | Evil | 21 | 228 | 116 | |

| ATK | DEF | MGC | RES | SPD | LCK |
| --- | --- | --- | --- | --- | --- |
| 20 | 18 | 19 | 17 | 19 | 18 |
List of Skills

Skill
Element
Cost
Effect
Polarburst
Ice
10 MP
Medium dmg +Freeze. 1 Foe
Magic Drain
Dark
30 HP
Large dmg +MP Drain. 1 Foe
Slumber
Earth
6 MP
Sleep. 1 Foe
Healmor All
Light
18 MP
Major HP recovery. Party
Spellboost
Light
6 MP
MGC Up. Party
Polardeus
Ice
8 MP
Small dmg +Freeze. 2 Foes
Devil Children Fire/Ice BookEdit
| Class | Element | Type | Level | HP | MP | Exp |
| --- | --- | --- | --- | --- | --- | --- |
| General | Ice | Evil | 21 | 228 | 116 | |

| ATK | DEF | MGC | RES | SPD | LCK |
| --- | --- | --- | --- | --- | --- |
| 20 | 18 | 19 | 17 | 19 | 18 |
Paimon as seen in Devil Summoner: Soul Hackers
Paimon as seen in DemiKids
Paimon as it appears in Card Summoner