Ad blocker interference detected!
Wikia is a free-to-use site that makes money from advertising. We have a modified experience for viewers using ad blockers

Wikia is not accessible if you've made further modifications. Remove the custom ad blocker rule(s) and the page will load as expected.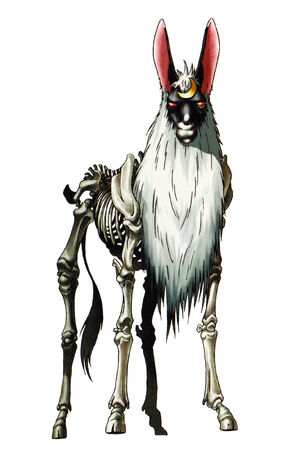 Pales (パレス) is a demon in the series.
In Roman myths, Pales was a deity of shepherds, flocks, and livestock. He is regarded as a male by some sources and as a female by others, and even possibly as a pair of deities. Its name is thought to have derived the terms "palace" and "Palestine".
Being categorized into the Vile race is probably due to the theory that Pales was derived from the evil Egyptian god, Set. A donkey is one of the animals that compose Seth's appearance.
Appearances
Edit
Shin Megami Tensei: Strange JourneyEdit
"

A god or goddess with a donkey's head who was worshiped from northern Africa all the way to Rome. The donkey's head has long been a sign of fertility and is often worshiped. His or her (there is some dispute amongst scholars) temple was built on Palatine Hill in Rome. The word "palace" came from this god's name.

"
—Strange Journey Compendium
Shin Megami Tensei IVEdit
Pales is the true form of Baphomet and is faced in the Challenge Quest, Multi-Demon Fusion. Using the Demon Summoning Program found in smartphones, Pales is reborn to aid Cernunnos in his goals and the two fight Flynn. They disappear after being defeated.
Shin Megami Tensei: Strange JourneyEdit
| Attack Type | | | | | | | | | |
| --- | --- | --- | --- | --- | --- | --- | --- | --- | --- |
| Single Foe/1/Physical/None | - | - | Weak | Strong | - | - | Null | Null | - |
| Poison | Paralyze | Stone | Strain | Sleep | Charm | Mute | Fear | Bomb | Rage |
| --- | --- | --- | --- | --- | --- | --- | --- | --- | --- |
| 100% | 100% | 100% | 100% | 100% | 100% | 100% | 100% | 100% | 100% |
D-Source Skills
Mamudo
Vigilant
Repel Ice
Password
7HcM9XnCFaq2cXkJ

7LaO%ndPDR$P0nah
Shin Megami Tensei IVEdit
| Race | Level | HP | MP | ST | DX | MA | AG | LU |
| --- | --- | --- | --- | --- | --- | --- | --- | --- |
| Vile | 73 | 390 | 378 | 68 | 76 | 98 | 64 | 91 |
| Phys | Gun | Fire | Ice | Elec | Force | Light | Dark |
| --- | --- | --- | --- | --- | --- | --- | --- |
| - | - | Weak | Null | - | - | Resist | - |
Shin Megami Tensei: Devil SummonerEdit
| Race | Level | HP | MP | CP | NOA |
| --- | --- | --- | --- | --- | --- |
| Vile | 73 | 815 | 429 | 105 | 2-4 |
| Strength | Intelligence | Magic | Endurance | Agility | Luck |
| --- | --- | --- | --- | --- | --- |
| 23 | 16 | 21 | 20 | 16 | 12 |
| Personality | Phys Attack | Phys Hit | Base Defense | Avoid | Mgc Attack | Mgc Defense |
| --- | --- | --- | --- | --- | --- | --- |
| Prideful | 192 | 133 | 186 | 132 | 50 | 67 |
Devil Summoner: Soul HackersEdit
| Race | Level | HP | MP | CP | MAG Summon |
| --- | --- | --- | --- | --- | --- |
| Vile | 74 | 755 | 304 | 30 | 2359 |

| Strength | Intelligence | Magic | Endurance | Agility | Luck |
| --- | --- | --- | --- | --- | --- |
| 25 | 18 | 21 | 20 | 16 | 13 |
| Personality | Phys Attack | Phys Hit | Mgc Attack | Mgc Hit | Base Defense | Avoid |
| --- | --- | --- | --- | --- | --- | --- |
| Calm | 198 | 118 | 191 | 56 | 204 | 117 |
| Resist | Void | Absorb | Reflect | Weak |
| --- | --- | --- | --- | --- |
| - | - | - | Expel, Death | Strike, Skill |