Ad blocker interference detected!
Wikia is a free-to-use site that makes money from advertising. We have a modified experience for viewers using ad blockers

Wikia is not accessible if you've made further modifications. Remove the custom ad blocker rule(s) and the page will load as expected.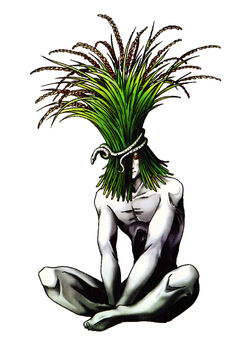 Patrimpas (パトリムパス, Patorimupasu)? is a demon in the series.
Also known as Potrimpo, Potrimpus, Autrimpo, and Natrimpe, he is a Prussian water god of grain and vegetation rumored to have existed by Christian missionaries. Snakes were said to be associated with him.
Appearances
Edit
Shin Megami Tensei: Strange JourneyEdit
"A god of water, and one of the three major gods of Lithuanian lore.
He provides all a human needs to live, which may stem from his association with water."
—Shin Megami Tensei: Strange Journey Compendium
Shin Megami Tensei IV ApocalypseEdit
Patrimpas can be found within the Toyosu Shelter and the Konganji Passage in Ginza. He can teach the Diarama, Wind Breath, Tetraja and Recarm skills through his Demon Whisper. Patrimpas benefits from learning healing and Force skills.
Shin Megami Tensei: Strange JourneyEdit
Race

Alignment

Level

HP

MP

| | | |
| --- | --- | --- |
| Strength | 16 | |
| Magic | 22 | |
| Vitality | 17 | |
| Agility | 18 | |
| Luck | 14 | |

Dragon
Light-Chaos
24
225
133
| Attack Type | | | | | | | | | |
| --- | --- | --- | --- | --- | --- | --- | --- | --- | --- |
| Single Foe/1/Physical/None | - | Strong | Weak | - | Null | Strong | - | - | - |
| Poison | Paralyze | Stone | Strain | Sleep | Charm | Mute | Fear | Bomb | Rage |
| --- | --- | --- | --- | --- | --- | --- | --- | --- | --- |
| 100% | 100% | 100% | 100% | 100% | 100% | 100% | 100% | 100% | 100% |
D-Source Skills
Bobasma
Recarm
Elec Boost
Password
XEjbay8qeNM5xkNW
0U0jPENb9UNbvUN$
Shin Megami Tensei IVEdit
Race

Level

HP

MP

| | | |
| --- | --- | --- |
| Strength | 26 | |
| Dexterity | 28 | |
| Magic | 36 | |
| Agility | 24 | |
| Luck | 33 | |

Dragon
23
155
149
| Phys | Gun | Fire | Ice | Elec | Force | Light | Dark |
| --- | --- | --- | --- | --- | --- | --- | --- |
| - | - | - | Resist | - | Repel | Weak | Weak |
| | |
| --- | --- |
| Normal Attack | Physical, one hit, one enemy |
List of Skills

Skill
Cost
Effect
Level
Zanma
8 MP
Medium force damage to one foe.
Innate
Mazan
11 MP
Weak force damage to all foes.
Innate
Recarm
20 MP
Revives one dead ally with little HP restored.
24
Tetraja
15 MP
Bestows shields which nullify light or dark attacks for one attack to all allies.
25
Shin Megami Tensei IV ApocalypseEdit
Race

Level

HP

MP

| | | |
| --- | --- | --- |
| Strength | 17 | |
| Dexterity | 22 | |
| Magic | 36 | |
| Agility | 29 | |
| Luck | 24 | |

Dragon
20
163
137
| Phys | Gun | Fire | Ice | Elec | Force | Light | Dark |
| --- | --- | --- | --- | --- | --- | --- | --- |
| - | - | Weak | Resist | - | Resist | - | Weak |
| | |
| --- | --- |
| Ailment Resistance | Weak:Daze |
| | |
| --- | --- |
| Normal Attack | Phys x1, 1 enemy |
List of Skills

Skill
Cost
Effect
Level
Diarama
16 MP
Restores medium amount of HP to one ally.
Innate
Wind Breath
21 MP
1 to 4 hits of weak force damage to multiple foes.
Innate
Tetraja
15 MP
Bestows shields which nullify light or dark attacks for one attack to all allies.
21
Recarm
20 MP
Revives one dead ally with little HP restored.
22
Shin Megami Tensei: Devil SummonerEdit
| Race | Level | HP | MP | St | In | Ma | Ag | Lu |
| --- | --- | --- | --- | --- | --- | --- | --- | --- |
| Dragon | 49 | 370 | 234 | 15 | 17 | 11 | 14 | 8 |

| CP | NOA | Personality | P.ATK | P.HIT | B.DEF | AVD | M.ATK | M.DEF |
| --- | --- | --- | --- | --- | --- | --- | --- | --- |
| 81 | 1 | Insightful | 128 | 92 | 124 | 93 | 30 | 50 |