Ad blocker interference detected!
Wikia is a free-to-use site that makes money from advertising. We have a modified experience for viewers using ad blockers

Wikia is not accessible if you've made further modifications. Remove the custom ad blocker rule(s) and the page will load as expected.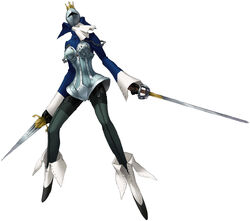 Penthesilea (ペンテシレア?) is a Persona in the series.
Penthesilea is based off Greek mythology, in which she is an Amazonian queen. She is the daughter of Ares, god of war and Otrera, queen and founder of the Amazons. According to the legend, Penthesilea accidentally killed her sister Hippolyta, and as penance for her actions, she joined in the Trojan War, leading the Amazons to battle. She joined the war in its tenth and final year, and was killed by Achilles, who fell in love with her right when he killed her.
Appearances
Edit
Biography
Edit
Penthesilea is the initial Persona of Mitsuru Kirijo. It carries an affinity to Ice, and appears as an iron-masked queen wielding a dagger and a rapier.
Penthesilea is shown to have similar abilities to Fuuka's Persona, Lucia, but to a much less powerful extent. After Fuuka joins SEES, she takes over as the group's tactical advisor, and Mitsuru joins the front lines.
Persona 3Edit
Arcana

Level

| | | |
| --- | --- | --- |
| Strength | 11 | |
| Magic | 16 | |
| Endurance | 11 | |
| Agility | 12 | |
| Luck | 11 | |

Empress
18
| Inherit | Reflects | Absorbs | Block | Resists | Weak |
| --- | --- | --- | --- | --- | --- |
| n/a | - | - | - | Ice | Fire |
List of Skills

Skill
Cost
Effect
Level
Analysis
Navi
Displays enemy information (stats and resistances).
Innate
Bufu
4 SP
Deals light Ice damage / Freezes one foe. (10% chance)
Innate
Mabufu
8 SP
Deals light Ice damage / Freezes all foes. (8% chance)
Innate
Dia
4 SP
Slightly restores 1 ally's HP.
Innate
Marin Karin
5 SP
Charms 1 foe. (25% chance)
Innate
Bufula
8 SP
Deals medium Ice damage / Freezes one foe. (10% chance)
21
Diarama
8 SP
Moderately restores 1 ally's HP.
25
Spirit Drain
5 SP
Drains 20 SP from one foe.
27
Tentarafoo
10 SP
Makes all foes Panic. (25% chance)
32
Mabufula
16 SP
Deals medium Ice damage / Freezes all foes. (8% chance)
42
Ice Boost
Passive
Strengthens Ice attacks by 25%.
45
Mind Charge
15 SP
Doubles magic damage dealt next turn. (2.5x damage)
50
Bufudyne
16 SP
Deals heavy Ice damage / Freezes one foe. (10% chance)
55
Persona Q: Shadow of the LabyrinthEdit
Arcana

Level

| | | |
| --- | --- | --- |
| Strength | 6 | |
| Magic | 11 | |
| Endurance | 7 | |
| Agility | 6 | |
| Luck | 8 | |

Empress
1
| Reflects | Absorbs | Void | Resists | Weak |
| --- | --- | --- | --- | --- |
| - | - | - | Ice | Fire |
List of Skills

Skill
Cost
Effect
Level
Bufu
8 SP
A light Ice attack. (1 enemy)
Innate
Tarukaja
8 SP
Raise attack for 3 turns. (1 ally)
6
Tentarafoo
12 SP
Medium chance of Panic. (All enemies)
12
Bufula
28 SP
A medium Ice attack. (1 enemy)
15
Mind Charge
40 SP
Nearly triple the user's magic attack for next hit. Lasts 3 turns.
23
Bufudyne
46 SP
A heavy Ice attack. (1 enemy)
40
Arcana

Level

| | | |
| --- | --- | --- |
| Strength | 72 | |
| Magic | 99 | |
| Endurance | 67 | |
| Agility | 69 | |
| Luck | 78 | |

Empress
99
| Reflects | Absorbs | Void | Resists | Weak |
| --- | --- | --- | --- | --- |
| - | - | - | Ice | Fire |
List of Skills

Skill
Cost
Effect
Level
Tentarafoo
12 SP
Medium chance of Panic. (All enemies)
12
Mind Charge
40 SP
Nearly triple the user's magic attack for next hit. Lasts 3 turns.
23
Bufudyne
46 SP
A heavy Ice attack. (1 enemy)
40