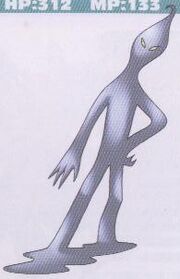 Persona (ペルソナ, Perusona)? is a demon in the series.
Persona is the face one presents to the world according to Carl Jung. It is a mask one wears to hide ones true self and to make an impression upon others.
Appearances
Edit
Devil Children Black Book & Red BookEdit
"

Strong feelings sleeping inside of one's heart that have taken the form of a demon of the heart.

"
—Devil Database
Persona can be bought in the Casino for five thousand coins.
Devil Children Black/Red BookEdit
| Class | Element | Type | Level | HP | MP | Exp |
| --- | --- | --- | --- | --- | --- | --- |
| General | Wind | Ghost | 29 | 312 | 133 | 349 |
| ATK | DEF | MGC | RES | SPD | LCK |
| --- | --- | --- | --- | --- | --- |
| 27 | 25 | 26 | 24 | 25 | 20 |
Devil Children Black Book/Red Book (PS)Edit
| Class | Element | Type | Level | HP | MP | Exp |
| --- | --- | --- | --- | --- | --- | --- |
| General | Wind | Ghost | 29 | 312 | 133 | 349 |
| ATK | DEF | MGC | RES | SPD | LCK |
| --- | --- | --- | --- | --- | --- |
| 27 | 25 | 26 | 24 | 25 | 20 |
Devil Children White BookEdit
| Class | Element | Type | Level | HP | MP | Exp |
| --- | --- | --- | --- | --- | --- | --- |
| General | Wind | Ghost | 29 | 312 | 133 | 349 |
| ATK | DEF | MGC | RES | SPD | LCK |
| --- | --- | --- | --- | --- | --- |
| 27 | 25 | 26 | 24 | 25 | 20 |