Persona 2: Eternal Punishment
ペルソナ2 罰
Perusona 2: Batsu
Game Information
Developer
Atlus
Publisher
Atlus
Genre
RPG
Platform
PlayStation
PSP
Release Dates
PlayStation
June 29, 2000
PSP Remake
May 17, 2012
PlayStation
November 30, 2000
PSN - PSOne Classic
February 27, 2013
Persona 2: Eternal Punishment is the third game in the Persona series, following Persona 2: Innocent Sin as the second chapter of an overarching story. Eternal Punishment focuses on protagonist Maya Amano. The theme song of the game is "Change Your Way", by Elisha La'Verne.
It was originally released on the PlayStation, and was released on the PlayStation Store for PlayStation Portable, PlayStation Vita and PlayStation 3 as a classic.
Eternal Punishment received a PlayStation Portable remake, which was also released on the PlayStation Store for PlayStation Vita.
Eternal Punishment takes place on "the other side" from Innocent Sin. Rumors are spread about how if you call your cell phone, the JOKER will come and kill whoever you ask it to. Maya Amano is sent to write a story about the JOKER, when she meets him in person. Philemon grants Maya and her friends the ability to summon Personas, an ability that they use to hunt JOKER.
Characters
Edit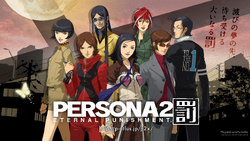 Persona 2: Eternal Punishment PSPEdit
Eternal Punishment received a PSP release on the May 17th, 2012 in Japan. Directed by Shoji Meguro and as before, the new soundtrack is interchangeable with the original one. Instead of Shigenori Soejima, Masayuki Doi of Trauma Center fame handled the character artwork. The new opening was done by Mad House.
There are new additions/improvements to the game:
Loading times are greatly improved
A fast-forward option is included for event scenes, as requested by players in the prequel
On/Off Option to remember the memory of the cursor in menus
Option to change the speed of the battle, like "Speedy", etc. With the highest option, battles take marginally less time to complete than the previous Persona games.
There is a new scenario starring Tatsuya and featuring a woman with long purple hair and a cat named Zula.
The player can change the color of the menus: gray, red, blue, yellow, pink, and purple in that exact order, corresponding to Persona, Persona 2, Persona 3, Persona 4, Persona 3 Portable (female route) and Persona Q.
Satomi Tadashi (Scenario writer of Persona and Persona 2) states that the new scenario will change everything the player knows about fighting Demons and "won't be pretty", suggesting that it will be very dark.
Due to "unusual circumstances", the specifics of which are unknown, it could not be localized anywhere outside of Japan, however it has been announced that a fan translation is in the works.
Box Art and Promotional Art
Japanese PSX boxart
USA PSX Boxart
Promotional artwork
Cover for the Master's Guide
The cover of May 2012's PlayStation Magazine
Not for sale card sleeve
PSP Remake Screenshots
Boxart
Baofu reacting to Shadow Shiori's sudden appearance
The final battle of the Tatsuya story
External links
Edit
Ad blocker interference detected!
Wikia is a free-to-use site that makes money from advertising. We have a modified experience for viewers using ad blockers

Wikia is not accessible if you've made further modifications. Remove the custom ad blocker rule(s) and the page will load as expected.