Persona 2: Eternal Punishment Original Soundtrack
Talk

0
Share
Ad blocker interference detected!
Wikia is a free-to-use site that makes money from advertising. We have a modified experience for viewers using ad blockers

Wikia is not accessible if you've made further modifications. Remove the custom ad blocker rule(s) and the page will load as expected.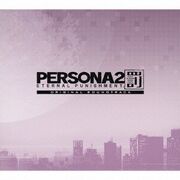 Persona 2: Eternal Punishment Original Soundtrack (ペルソナ2 罰 ETERNAL PUNISHMENT オリジナル・サウンドトラック) is the official soundtrack for the game Persona 2: Eternal Punishment. Released on June 27th, 2012 by King Records, it covers a total of five disks. It is an update to the original game's soundtrack album released for the PSP release of the game.
Track List
Edit
Disc 1 (59:26)
No.
Name
Translation
Length
01
オープニング
Opening
1:27
02
舞耶(テーマ2)
Maya (Theme 2)
1:58
03
七姉妹学園
Seven Sisters High School
2:11
04
Map I
--
1:48
05
Parabellum II
--
1:32
06
時間城
Time Castle
1:35
07
蝸牛山
Mt. Katatsumuri
1:36
08
森本病院
Morimoto Hospital
1:45
09
謎
Enigma
1:10
10
ボス戦闘
Boss Battle
1:23
11
珠閒瑠ジニー
Sumaru Genie
1:42
12
相性占い
Affinity Readings
1:27
13
Time Count
--
2:00
14
日常
Everyday
1:44
15
赤提灯しらいし
Akachochin Shiraishi
1:38
16
サトミタダシ平坂店
Satomi Tadashi Hirasaka Shop
1:13
17
Parabellum
--
2:05
18
クラブ・ゾディアック
Club Zodiac
2:20
19
Peace Diner
--
1:23
20
TONY'S SHOP(不思議アイテム店)
TONY'S SHOP (Wonder Item Store)
1:25
21
青葉公園
Aoba Park
1:42
22
ペントハウス
Penthouse
1:04
23
Le Cleir de lune(特殊武器店)
Le Cleir de lune (Special Weapon Store)
1:30
24
Ebony
--
1:43
25
管制室
Control Room
1:25
26
理学研究所
Science Laboratory
2:01
27
BIKINI LINE
--
1:24
28
富永カイロプラクティック
Tominaga Chiropractic
1:44
29
BGM I
--
1:28
30
裏珠閒瑠TV
Other Side Sumaru TV
1:30
31
BGM II
--
1:42
32
柊サイコセラピー
Hiiragi Psychotherapy
2:03
33
kaori
--
1:40
34
ギガ・マッチョ
Giga Macho
1:54
35
春日山高校
Kasugayama High School
2:04
36
ベルベットナナシアレンジ
Velvet Room Nameless Arrange
1:10
Disc 2 (70:56)
No.
Name
Translation
Length
01
戦闘
Battle
1:32
02
BGM III
--
1:07
03
Padparacha
--
1:34
04
珠閒瑠TV
Sumaru TV
2:02
05
ムー大陸
Mu Continent
2:11
06
etheria
--
2:07
07
スマイル平坂
Smile Hirasaka
1:39
08
BAOFU
--
1:41
09
廃工場
Abandoned Factory
2:12
10
サトミタダシ夢崎店
Satomi Tadashi Yumesaki Shop
1:23
11
Jolly Roger
--
1:26
12
日輪丸
Nichirinmaru
2:08
13
幻想
Illusions
1:19
14
海底遺跡
Undersea Ruins
2:02
15
回想(懐かしい)
Reminiscence (Beloved)
0:59
16
地下鉄工事現場
Subway Construction Site
2:05
17
東亜ディフェンス(特殊武器店)
Toa Defense (Special Weapon Store)
1:43
18
ネコマタ噂事務所
Nekomata Rumor Office
0:39
19
アメノトリフネ
Ameno Torifune
1:24
20
Map II
--
1:38
21
珠閒瑠城
Sumaru Castle
2:04
22
巨悪
A Great Evil
1:18
23
Map III
--
0:58
24
モナドマンダラ
Monado Mandala
2:00
25
回想(悲しい)
Reminiscence (Sad)
1:24
26
EX最終戦闘
EX Final Battle
1:50
27
other mix 1
--
5:54
28
other mix 2
--
5:58
29
other mix 3
--
4:55
30
other mix 4
--
5:41
31
ペルソナマンボ
Persona Mambo
3:08
32
ペルソナロック
Persona Rock
2:55
Disc 3
No.
Name
Translation
Length
01
オープニング
Opening
--
02
タイトル
Title
--
03
舞耶(テーマ2)
Maya (Theme 2)
--
04
七姉妹学園
Seven Sisters High School
--
05
Map I
--
--
06
Parabellum II
--
--
07
時間城
Time Castle
--
08
蝸牛山
Mt. Katatsumuri
--
09
森本病院
Morimoto Hospital
--
10
謎
Enigma
--
11
ボス戦闘
Boss Battle
--
12
戦闘リザルト
Battle Result
--
13
珠閒瑠ジニー
Sumaru Genie
--
14
相性占い
Affinity Readings
--
15
Time Count
--
--
16
日常
Everyday
--
17
赤提灯しらいし
Akachochin Shiraishi
--
18
サトミタダシ~平坂店
Satomi Tadashi Hirasaka Shop
--
19
Parabellum
--
--
20
クラブ・ゾディアック
Club Zodiac
--
21
Peace Diner
--
--
22
TONY'S SHOP(不思議アイテム店)
TONY'S SHOP (Wonder Item Store)
--
23
青葉公園
Aoba Park
--
24
ペントハウス
Penthouse
--
25
Le Cleir de lune(特殊武器店)
Le Cleir de lune (Special Weapon Store)
--
Disc 4
No.
Name
Translation
Length
01
Ebony
--
--
02
管制室
Control Room
--
03
理学研究所
Science Laboratory
--
04
BIKINI LINE
--
--
05
富永カイロプラクティック
Tominaga Chiropractic
--
06
BGM I
--
--
07
裏珠閒瑠TV
Other Side Sumaru TV
--
08
BGM II
--
--
09
柊サイコセラピー
Hiiragi Psychotherapy
--
10
kaori
--
--
11
ギガ・マッチョ
Giga Macho
--
12
春日山高校
Kasugayama High School
--
13
ベルベットナナシアレンジ
Velvet Nameless Arrange
--
14
戦闘
Battle
--
15
BGM III
--
--
16
Padparacha
--
--
17
珠閒瑠TV
Sumaru TV
--
18
ムー大陸
Mu Continent
--
19
etheria
--
--
20
スマイル平坂
Smile Hirasaka
--
21
BAOFU
--
--
22
廃工場
Abandoned Factory
--
23
サトミタダシ~夢崎店
Satomi Tadashi Yumesaki Shop
--
24
Jolly Roger
--
--
Disc 5
No.
Name
Translation
Length
01
日輪丸
Nichirinmaru
--
02
幻想
Illusions
--
03
海底遺跡
Undersea Ruins
--
04
回想(懐かしい)
Reminiscence (Beloved)
--
05
地下鉄工事現場
Subway Construction Site
--
06
東亜ディフェンス(特殊武器店)
Toa Defense (Special Weapon Store)
--
07
ネコマタ噂事務所
Nekomata Rumor Office
--
08
アメノトリフネ
Ameno Torifune
--
09
Map II
--
--
10
珠閒瑠城
Sumaru Castle
--
11
巨悪
A Great Evil
--
12
Map III
--
--
13
モナドマンダラ
Monado Mandala
--
14
回想(悲しい)
Reminiscence (Sad)
--
15
EX最終戦闘
EX Final Battle
--
16
Change Your Way (GAME VERSION)
--
--
17
スタッフロール
Staff Roll
--
18
詩織
Shiori
--
19
カダスマンダラ
Kadath Mandala
--
20
アディショナル戦闘
Additional Battle
--
21
アディショナルボス戦闘
Additional Boss Battle
--
22
死線
Verge of Death
--
23
サトミタダシ~カダスマンダラ店
Satomi Tadashi Kadath Mandala Shop
--