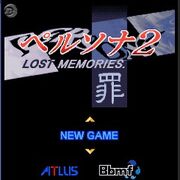 Persona 2 Tsumi: Lost Memories (ペルソナ2 罪 LOST MEMORIES) is an RPG developed by Atlus and menue for mobile phones.
Releases
Japan: October 1st, 2007 (iAppli)
Japan: November 1st, 2007 (S!Appli)
Japan: December 12th, 2007 (EZAppli)
Gameplay
The gameplay in Lost Memories is similar to Persona 2: Innocent Sin with personas, fusion skills, and the rumor system. The story itself is original.
Playable Characters
Gallery
Ad blocker interference detected!
Wikia is a free-to-use site that makes money from advertising. We have a modified experience for viewers using ad blockers

Wikia is not accessible if you've made further modifications. Remove the custom ad blocker rule(s) and the page will load as expected.