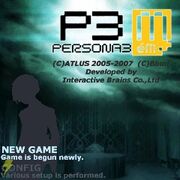 Persona 3 Em (ペルソナ3エム) is an RPG published by Atlus and Bbmf and developed by Interactive Brains for mobile phones.
Japan: November 26th, 2007 (iAppli)
Japan: December 12th, 2007 (S!Appli)
Persona 3 Em is designed as a side-story taking place during the Yakushima trip of Persona 3. It is designed to emulate the original game in having a social-interaction driven daytime period and a dungeon-crawling night period. Dungeon mechanics such as equipping weapons and all out attacks remain the same, as well as the soundtrack. Persona fusion in the Velvet Room is also possible. However, due to the limitations of the cellphone platform, Persona do not level up and must be fused to acquire new skills.
Ad blocker interference detected!
Wikia is a free-to-use site that makes money from advertising. We have a modified experience for viewers using ad blockers

Wikia is not accessible if you've made further modifications. Remove the custom ad blocker rule(s) and the page will load as expected.