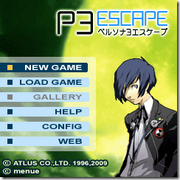 Persona 3 Escape ペルソナ3 エスケープ is a Persona 3 spin-off developed for NTT DoCoMo mobile phones. The game takes place during the love hotel scene on the third full moon.
The Protagonist and Yukari Takeba find themselves locked in the love hotel. Guided by Fuuka Yamagishi, they have to use their Personas to break out, starting with Orpheus and Io. Similar to escape the room-type adventure games, most of the gameplay is centered around identifying the correct Persona to use on certain items. By completing these challenges successfully, players are able to acquire more Persona.
Ad blocker interference detected!
Wikia is a free-to-use site that makes money from advertising. We have a modified experience for viewers using ad blockers

Wikia is not accessible if you've made further modifications. Remove the custom ad blocker rule(s) and the page will load as expected.