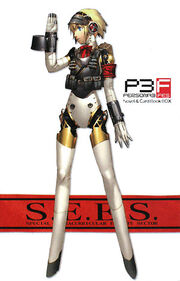 Persona 3 FES: Alternative Heart (ペルソナ3フェス〜Alternative Heart〜) is a Persona 3 novel.
This novel was written by Tetsuya Katsuzawa who also wrote the Persona -trinity soul- novelizations. Illustrations were provided by Shigenori Soejima. It was released in January 16, 2008 by Village Books and was 221 pages long. It is the official novelization of Persona 3 FES and was sold with a card book attached.
Particularly notable is the epilogue which takes place ten years after the events of the novel in which Akihiko Sanada leads into Persona -trinity soul.
Ad blocker interference detected!
Wikia is a free-to-use site that makes money from advertising. We have a modified experience for viewers using ad blockers

Wikia is not accessible if you've made further modifications. Remove the custom ad blocker rule(s) and the page will load as expected.