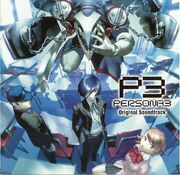 Persona 3 Original Soundtrack is the original game soundtrack of Persona 3. The soundtrack was composed by Shoji Meguro, with vocals by Yumi Kawamura and Lotus Juice.
Track List
Edit
Disc 2
No.
Name
Occurrence
1
Changing Seasons
Gekkoukan High School (Semester 2)
2
Basement
Chariot and Justice Shadow event.
3
Master of Tartarus
Tartarus Boss Battle
4
It's Alright...
Shinjiro confronts Takaya
5
Living With Determination
Sad event
6
tartarus_0d04
Theme of Tartarus (4th Block)
7
Kyoto
Kyoto hotel
8
Afternoon Break
Lunchtime
9
Current Net Price Tanaka
Tanaka's Home Shopping Network
10
tartarus_0d05
Theme of Tartarus (5th Block)
11
Memory of 10 Years Ago
Flashback in Yakushima / Ryoji regains his memories.
12
Mistic
Name input, decision to kill Ryoji on Dec 31st
13
Power of the Heart
Arcana revelation
14
Memories of the City
Theme of Port Island (after Dec 31st)
15
Memories of the School
Theme of Gekkoukan High (after Dec 31st)
16
Living With Determination – Iwatodai Dormitory Arrange-
Theme of dorm (after Dec 31st)
17
tartarus_0d06
Theme of Tartarus (6th Block)
18
That Which Comes From The Darkness
Nyx Avatar battle intro
19
The Battle for Everyone's Souls
Nyx Avatar battle
20
Nyx
Theme of Nyx
21
Determination
Create Universe Arcana
22
Burn My Dread -Last Battle-
Opening cutscene; Battle against Nyx
23
Bonds
Mitsuru's speech in the ending sequence
24
Because I'm Protecting You
Protagonist and Aigis on school roof in the ending sequence
25
Memories of You
Staff roll
26
Blues in Velvet Room
Bonus track
Ad blocker interference detected!
Wikia is a free-to-use site that makes money from advertising. We have a modified experience for viewers using ad blockers

Wikia is not accessible if you've made further modifications. Remove the custom ad blocker rule(s) and the page will load as expected.