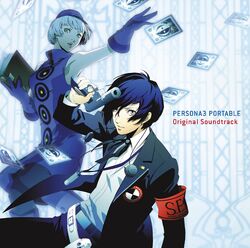 Persona 3 Portable Original Soundtrack is the soundtrack for Persona 3 Portable, released on the PlayStation Portable. It was released on 25th November 2009 in Japan with the catalog number SVWC-7662. The tracks are composed and arranged entirely by Shoji Meguro. The soundtrack features music played when players take the role of the female protagonist.

Track List
Edit
Ad blocker interference detected!
Wikia is a free-to-use site that makes money from advertising. We have a modified experience for viewers using ad blockers

Wikia is not accessible if you've made further modifications. Remove the custom ad blocker rule(s) and the page will load as expected.