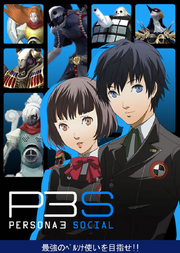 Persona 3 Social (ペルソナ3ソーシャル) is a free-to-play Persona 3 spin-off developed for the Mobage-town Japanese social network-enabled mobile phones.
Players take the role of a Gekkoukan High School student introduced to the world of shadows and Persona. Gameplay consists of taking up quests, battling Shadows, and earning experience. Players can also cooperate in a multiplayer game with other players in the network.
Ad blocker interference detected!
Wikia is a free-to-use site that makes money from advertising. We have a modified experience for viewers using ad blockers

Wikia is not accessible if you've made further modifications. Remove the custom ad blocker rule(s) and the page will load as expected.