Persona 4: Dancing All Night Original Soundtrack
Talk

0
Share
Ad blocker interference detected!
Wikia is a free-to-use site that makes money from advertising. We have a modified experience for viewers using ad blockers

Wikia is not accessible if you've made further modifications. Remove the custom ad blocker rule(s) and the page will load as expected.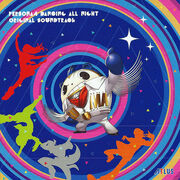 Persona 4: Dancing All Night Original Soundtrack is the original game soundtrack of Persona 4: Dancing All Night. The soundtrack was composed by Shoji Meguro, Ryota Kozuka and Atsushi Kitajoh. Featured remix artists include Daisuke Asakura, Shinichi Osawa, Ryota Kozuka (ATLUS), Tetsuya Komuro, Towa Tei [テイ・トウワ], DE DE MOUSE, NARASAKI, Banvox, Norihiko Hibino, Yuu Miyake, Akira Yamaoka and Lotus Juice.
Track List
Edit
Disc 1
No.
Name
Occurrence
1
Dance!
Main theme and one of Yu's themes
2
Pursuing My True Self (ATLUS Kozuka Remix)
One of Chie's themes
3
Backside Of The TV (Lotus Juice Remix)
One of Yosuke's themes
4
SNOWFLAKES (NARASAKI Remix)
One of Yukiko's themes
5
Signs Of Love (TK Remix)
One of Yu's themes
6
Time To Make History (AKIRA YAMAOKA Remix)
One of Kanji's themes
7
Heaven (Norihiko Hibino Remix)
One of Naoto's themes
8
NOW I KNOW (Yuu Miyake Remix)
One of Rise's themes
9
Theme of Junes (with song)
One of Nanako's themes
10
Shadow World (ATLUS Kozuka Remix)
One of Nanako's themes
11
Best Friends (Banvox Remix)
One of Chie's themes
12
Pursuing My True Self (Shinichi Osawa Remix)
One of Teddie's themes
13
Heartbeat, Heartbreak (TOWA TEI Remix)
One of Nanako's themes
14
Your Affection (Daisuke Asakura Remix)
One of Kanami's themes
15
Shadow World (DE DE MOUSE shadow swing mix)
16
Reach Out To The Truth (Dancing on PERSONA STAGE)
17
Calystegia
18
So Baby Go For It, Feel the Vibe!
19
Same Time, Same Feeling
20
As You Like It
21
Period ("P4D" ver.)
22
Tanaka's Amazing Commodities ~Urban・Breeze・Elegant・Style~
23
Collection
24
Dance Hymn of the Soul (Disco In Velvet Room)
Disc 2
No.
Name
Occurrence
1
specialist ("NEVER MORE" P4D-EDIT ver.)
2
Time To Make History (Orignal Full Size ver.)
3
Your Affection ("NEVER MORE" P4D-EDIT ver.)
One of Yosuke's themes
4
Heartbeat, Heartbreak ("NEVER MORE" P4D-EDIT ver.)
One of Yukiko's themes
5
Best Friends ("P4D" ver.)
One of Kanji's themes
6
Like a dream come true ("NEVER MORE" P4D-EDIT ver.)
One of Teddie's themes
7
Signs Of Love ("NEVER MORE" P4D-EDIT ver.)
One of Naoto's themes
8
Shadow World ("P4D" ver.)
9
MAZE OF LIFE ("P4D" ver.)
One of Yu's themes
10
Pursuing My True Self
One of Rise's themes
11
Electronica In Velvet Room ("P4D" ver.)
Margaret's theme
12
Never More
13
Reach Out To The Truth (PERSONA MUSIC FES 2013)
14
ROTTT -Izanagi-
15
ROTTT -Ziraiya-
16
ROTTT -Tomoe-
17
ROTTT -Konohanasakuya-
18
ROTTT -Himiko-
19
ROTTT -Takemikazuchi-
20
ROTTT -Sukunahikona-
21
ROTTT -Kintokidouji-
22
ROTTT -Izanaginookami-
23
Step
24
love meets bonds FES
25
New Days ("P4D" ver.)
26
Ochimizu
27
ZONE TIME ("P4D" ver.)
28
Much More Than I Feel Like
29
Reasoning ("P4D" ver.)
30
Who's There? ("P4D" ver.)
31
Borderline of Madness ("P4D" ver.)
32
I'll Face Myself (...and I'll Keep On Dancing!)
33
Morning Glory
34
I Want Bonds...
35
Artificial Smile, Crocodile Tears
36
Witness
37
Consensus of Those Who Want Bonds
38
SMILE ("P4D" ver.)
39
Never More ("P4D" ver.)