Persona 4: The ULTIMAX ULTRA SUPLEX HOLD Original Soundtrack
Talk

0
Share
Ad blocker interference detected!
Wikia is a free-to-use site that makes money from advertising. We have a modified experience for viewers using ad blockers

Wikia is not accessible if you've made further modifications. Remove the custom ad blocker rule(s) and the page will load as expected.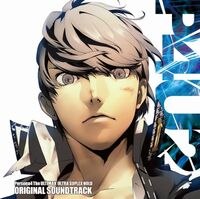 Persona 4: The ULTIMAX ULTRA SUPLEX HOLD Original Soundtrack is the official soundtrack for the game Persona 4 Arena Ultimax. Released on December 17, 2014 by Mastard Records, it contains 27 tracks. It is composed by Atsushi Kitajoh, with vocals by Lotus Juice, Shihoko Hirata, and Yumi Kawamura.
Tracklist
Edit
| No. | Name | Duration |
| --- | --- | --- |
| 01 | Break Out Of... | 3:58 |
| 02 | Break Out Of... -Instrumental- | 2:41 |
| 03 | Bring It | 0:12 |
| 04 | PU09 | 0:38 |
| 05 | PU02 | 0:24 |
| 06 | Mr. Easy-Going Man | 2:36 |
| 07 | PU12 | 0:28 |
| 08 | Pink Sniper | 2:58 |
| 09 | Youthful Spirit | 2:35 |
| 10 | PU05 | 0:26 |
| 11 | PU06 | 0:26 |
| 12 | A Fool or Clown? | 2:14 |
| 13 | PU04 | 0:51 |
| 14 | Twinkle☆Star | 2:56 |
| 15 | The Joker | 2:43 |
| 16 | Blood Red Moon | 2:33 |
| 17 | PU14 | 0:43 |
| 18 | Burned to Inferno | 1:55 |
| 19 | PU15 | 0:31 |
| 20 | Interruption | 0:08 |
| 21 | XOXO For You ♥ | 2:39 |
| 22 | Battle for Everyone's Souls ~USH ver.~ | 3:10 |
| 23 | Get A Triple S! | 0:40 |
| 24 | See You Next Time! | 0:10 |
| 25 | Today | 4:42 |
| 26 | Blood Red Moon -Blade Mix- | 4:34 |
| 27 | Break Out Of... -Free Mix- | 3:54 |