Ad blocker interference detected!
Wikia is a free-to-use site that makes money from advertising. We have a modified experience for viewers using ad blockers

Wikia is not accessible if you've made further modifications. Remove the custom ad blocker rule(s) and the page will load as expected.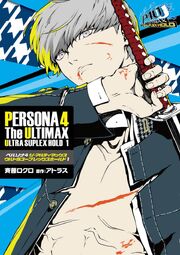 Persona 4 Arena Ultimax (ペルソナ4 ジ・アルティマックス ウルトラスープレックスホールド)  is the manga adaptation of Persona 4 Arena Ultimax and the sequel of Persona 4 Arena. This time is written by Rokuro Saito. The manga was published on June 27, 2015.
The story is a continuation of the events depicted in the game Persona 4 Arena and begins the day after it concludes. The Midnight Channel is back on the air and once again broadcasts a strange advertisement for another fighting tournament christened P-1 Climax, that shows members of the Investigation Team and the Shadow Operatives in combat. Just moments after this, Inaba is subject to a power outage and is engulfed by a bizarre red fog.
Illustrations Countown
Illustration Countdown for Volume 1 of Kanji, Rise, and Naoto
Illustration Countdown for Volume 1 of Chie and Yukiko
Illustration Countdown for Volume 1 of Yosuke and Teddie
Illustration Countdown for Volume 1 of Adachi
Illustration Countdown for Volume 1 of Sho
Illustration Countdown for Volume 1 of Yu