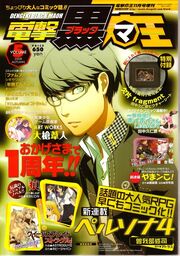 The Persona 4 Manga is a manga adaptation of Persona 4. It is written by Shūji Sogabe, the artist for the Persona 3 Manga, and started serialization in ASCII Media Works' Dengeki Black Maoh magazine on September 19, 2008.
The manga concerns the exploits of Souji Seta, the given name for the protagonist. Because of the nature of his parents' work, Souji had been transferring schools frequently. At the start of the story, Souji moved in from the city to Inaba, a small town where his uncle Ryotaro Dojima stays. As he gets ready to spend one whole year there, Souji is exposed to a series of bizarre murders that take place in the small town.
Ad blocker interference detected!
Wikia is a free-to-use site that makes money from advertising. We have a modified experience for viewers using ad blockers

Wikia is not accessible if you've made further modifications. Remove the custom ad blocker rule(s) and the page will load as expected.