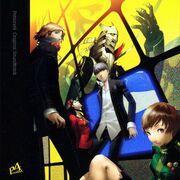 Persona 4 Original Soundtrack is the official soundtrack for the game Persona 4. Released on July 23rd, 2008 by Aniplex and Atlus, it contains 52 tracks spread between 2 discs. It is entirely composed by Shoji Meguro, with vocals by Shihoko Hirata. Persona 4's North American release contains the first disc of the soundtrack bundled with it.
Tracklist
Edit
Disc 1
No.
Name
U.S. Name
Occurrence
1
Pursuing My True Self
--
Intro Movie
2
記憶の片隅
Glimpse of a Memory

Title screen, Normal/True ending sequence

3
Welcome to the Limousine
--
Velvet Room intro
4
全ての人の魂の詩
Aria of the Soul
Velvet Room
5
New Days
--
Name input
6
Signs of Love
--
Dojima Residence
7
マヨナカテレビ
Midnight Channel
Midnight Channel intro
8
Your Affection
--
Inaba (Sunny)
9
Like a dream come true
Like a Dream Come True
Social Link interaction
10
そこにいるのは誰?
Who's There?
Shadow events
11
Reach Out To The Truth -First Battle-
Reach Out to the Truth -First Battle-
First battle
12
SMILE
Smile
Happy event
13
Backside of the TV
Studio Backlot
Inside the Midnight Channel
14
推理
Deduction
Investigation Team meeting
15
Castle
--
Yukiko's Castle
16
狂気の境界線
Border of Insanity
Before boss battle
17
I'll Face Myself-Battle-
I'll Face Myself -Battle-
Shadow Self battle, bonus boss battles, Margaret boss battle
18
I'll Face Myself
--
After Shadow Self boss battles
19
Muscle Blues
--
Shadow Kanji's theme
20
It's SHOW TIME!
It's Showtime!
Shadow Rise's theme
21
人の夫
Someone Else's Man
Summer Culture Festival
22
ケロリンMAGIC!
Quelorie Magic!
Rise's commercial
23
Sauna
--
Steamy Bathhouse
24
覚醒
Awakening
Protagonist first summons Izanagi, Shadow Yosuke manifests
25
Reach Out To The Truth
Reach Out to the Truth
Battle
Disc 2
No.
Name
U.S. Name
Occurrence
1
Reach Out To The Truth-Inst version-
Reach Out to the Truth -Inst version-
Second intro movie 
2
Specialist
--
School lessons
3
Theater
Striptease
Marukyu Striptease
4
Heartbeat, Heartbreak
--
Inaba (Cloudy)
5
Youthful Lunch
--
Lunchtime
6
Game
--
Void Quest
7
ZONE TIME
Zone Time
Suspenseful event
8
A New World Fool
--
Kunino-sagiri and Tohru Adachi battle
9
霧
The Fog
Izanami battle
10
Period
Results
Victory fanfare
11
ジュネスのテーマ
Junes Theme
Junes Department Store
12
心の力(P4 ver.)
Strength of Heart (P4 ver.)
Arcana revealed
13
The Path is Open(P4 ver.)
The Path is Open (P4 ver.)
Arcana maxed
14
夢想曲
Traumerei
Sad event, final portion of Izanami-no-Okami battle
15
How Much?
--
Shop
16
Secret Base
--
Secret Laboratory
17
Heaven
--
Heaven
18
Alone
--
Dojima Residence (after Nov. 6)
19
推理-another version-
Deduction -another version-
Fortune Social Link event
20
Long Way
--
Magatsu Inaba/Magatsu Mandala
21
Omen
--
Inaba (after Nov. 6)
22
回廊
Corridor
Bad Ending staff roll, Yomotsu Hirasaka
23
The Almighty
--
Ameno-sagiri battle theme
24
The Genesis
--
Izanami-no-Okami battle theme
25
I'll Face Myself-another version-
I'll Face Myself -another version-
Event (Nov. 5)
26
Never More
--
Normal/True Ending staff roll
27
Electronica In Velvet Room
Electronica of the Soul
Bonus track
Ad blocker interference detected!
Wikia is a free-to-use site that makes money from advertising. We have a modified experience for viewers using ad blockers

Wikia is not accessible if you've made further modifications. Remove the custom ad blocker rule(s) and the page will load as expected.