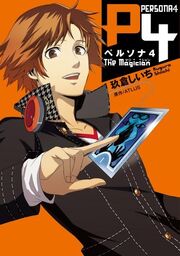 Persona 4 The Magician (ペルソナ4 The Magician) is a Persona 4-related manga.
It is written by Shiichi Kugure and was serialized in from issues 2-9 of Persona Magazine. The chapters were gathered into a single tankouban volume and released by Dengeki Comics on August 27, 2012.
Plot
The story is told through Yosuke Hanamura's point of view and focuses on his move to Inaba, including more background on his life and friends in the city. It shows his first meetings with Chie Satonaka, Yukiko Amagi, Saki Konishi, and Yu Narukami. The story joins the main plot of Persona 4 up until the part where Yosuke accepts his Shadow and ends with a manga adaptation of the final scenes from his Social Link.
Gallery
External Links
Ad blocker interference detected!
Wikia is a free-to-use site that makes money from advertising. We have a modified experience for viewers using ad blockers

Wikia is not accessible if you've made further modifications. Remove the custom ad blocker rule(s) and the page will load as expected.