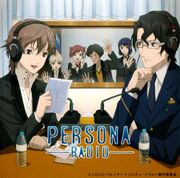 Persona Radio (ペルソナ ラジオ) was a Persona -trinity soul--focused internet radio broadcast.
Japan: June 25, 2008 (Volume 1)
Japan: September 24, 2008 (Volume 2)
Released through the internet radio broadcast station called Onsen, Persona Radio was broadcast from January 15, 2008 until July 29th with weekly updates every Tuesday. It was hosted by the voice actors for Shin Kanzato and Ryo Kanzato, Nobuhiko Okamoto and Takehito Koyasu respectively. The focus was on answering fan letters, musing on their characters, and discussing the recording of the series itself with episodes lasting up to an hour each. Other voice actors from the series appeared as guests throughout the program.
It received two compilation CD releases, with the first volume released as a two-disc set. The second disc covered the first thirteen broadcasts, while the first disc was a special edition recorded specifically for the CD release. This episode included the voice actors' commentary over previous shows. The volumes were released by Tablier Communications through Sony Music Distribution's Japan branch.
Ad blocker interference detected!
Wikia is a free-to-use site that makes money from advertising. We have a modified experience for viewers using ad blockers

Wikia is not accessible if you've made further modifications. Remove the custom ad blocker rule(s) and the page will load as expected.