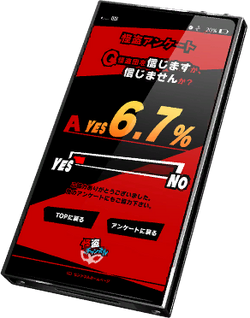 "

There are probably a lot of people who have high hopes for the Phantom Thieves' next move. So I've also implemented an anonymous poll on the site. "Do you believe in the Phantom Thieves, or not?"

"
—Yuuki Mishima, Persona 5
Ask the Phantom Thieves Channel (怪盗お願いチャンネル?), simply the "Phantom Thief Channel" or even abbreviated "Phantom Ch." (怪チャン) is a website created by Yuuki Mishima to promote the Phantom Thieves of Hearts in Persona 5.
Appearances
Edit
Persona 5 Edit
The Phantom Thief Channel holds the anonymous poll "Do you believe in the Phantom Thieves, or not?" and collects submission of heist requests.
Persona 5 The Animation The Day Breakers Edit
Kazuya Makigami himself almost makes a request to make his other gang members disappear, but ultimately decides not to send it. Naoya Makigami makes a request for help to the Phantom Thief Channel that his brother Kazuya is physically abusing him.
Ad blocker interference detected!
Wikia is a free-to-use site that makes money from advertising. We have a modified experience for viewers using ad blockers

Wikia is not accessible if you've made further modifications. Remove the custom ad blocker rule(s) and the page will load as expected.