Phantom Thieves of Hearts
Talk

3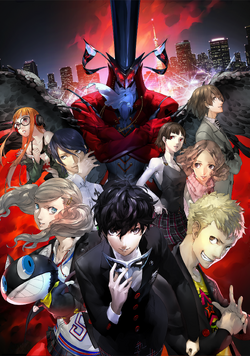 "

Take Your Heart

"
—Phantom Thieves of Hearts, Persona 5
The Phantom Thieves of Hearts (心の怪盗団, Kokoro no kaitō-dan)?, is a group of Phantom Thieves in Persona 5.
Appearances
Edit
Persona 5Edit
The protagonist, Ryuji Sakamoto, Anne Takamaki, and Morgana formed the Phantom Thieves of Hearts in order to target the "corrupt adults" and steal their "corrupt hearts" in order to change the world.
Their methods, however, may seem questionable and unorthodox, and the Phantom Thieves have received opposition and criticism for their actions. Goro Akechi makes an appearance on TV, where he is asked his opinion on the Phantom Thieves of Hearts. His response is that whether or not they truly exist, they are criminals who should be brought to justice; he goes on to denounce their actions, and believes that forcing people to change what's in their hearts is wrong.
Persona 5 The Animation The Day Breakers
Comments left in the anonymous poll "do you believe in the Phantom Thieves of Hearts?" in Yuki Mishima's "Ask the Phantom Thieves Channel" can be comical or even insulting, probably depending on the support rate:

"They act like elementary school kids."
"They treat this as a game too much."
"'Hearts' sounds lame."

The group has its own code name which can be named by the player (protagonist) after the first mission on Kamoshida Palace. The members used this name to disguise themselves as club activity or small community similar to SEES.