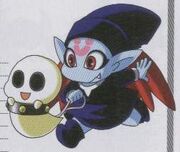 Pifrus (ピフリュス, Pifurusu) is a demon in the series.
From Prussian mythology. Also known as Peckols, turban-wearing god of the underworld and Pockols - a floating spirit that accompanied him. They were later mixed with the Greek Furies to get the name "Pifrus".
Appearances
Edit
DemiKids: Light & DarkEdit
"A mischievous demon who loves to unleash its twisted pranks on any unwary victim."
—DemiKids Demonary
Known as Bifrius.
Devil Children: Black/Red BookEdit
| Class | Element | Type | Exp | Level | HP | MP |
| --- | --- | --- | --- | --- | --- | --- |
| General | Fire | Ogre | | 21 | 219 | 96 |
| ATK | DEF | MGC | RES | SPD | LCK |
| --- | --- | --- | --- | --- | --- |
| 19 | 17 | 19 | 16 | 17 | 14 |
Devil Children: White BookEdit
| Class | Element | Type | Exp | Level | HP | MP |
| --- | --- | --- | --- | --- | --- | --- |
| General | Fire | Ogre | | 21 | 219 | 96 |
| ATK | DEF | MGC | RES | SPD | LCK |
| --- | --- | --- | --- | --- | --- |
| 19 | 17 | 19 | 16 | 17 | 14 |
Devil Children Black Book/Red Book (PS)Edit
| Class | Element | Type | Exp | Level | HP | MP |
| --- | --- | --- | --- | --- | --- | --- |
| General | Fire | Ogre | | 21 | 219 | 96 |
| ATK | DEF | MGC | RES | SPD | LCK |
| --- | --- | --- | --- | --- | --- |
| 19 | 17 | 19 | 16 | 17 | 14 |
DemiKids: Light & Dark VersionEdit
| Class | Element | Type | Exp | Level | HP | MP |
| --- | --- | --- | --- | --- | --- | --- |
| General | Fire | Ogre | 228 | 23 | 238 | 114 |

| ATK | DEF | MGC | RES | SPD | LCK |
| --- | --- | --- | --- | --- | --- |
| 21 | 18 | 22 | 20 | 18 | 19 |
List of Skills

Skill
Element
Cost
Effect
Pyrodeus
Fire
8 MP
Small dmg. 2 Foes
Sonic Boom
Wind
23 HP
Small dmg. Foes
Venom
Dark
6 MP
Poison. 1 Foe
Defboost
Light
6 MP
DEF Up. Party
Pyroburst
Fire
10 MP
Medium dmg. 1 Foe
Heal All
Light
12 MP
Minor HP recovery. Party
Devil Children Fire/Ice BookEdit
| Class | Element | Type | Exp | Level | HP | MP |
| --- | --- | --- | --- | --- | --- | --- |
| General | Fire | Ogre | 228 | 23 | 238 | 114 |

| ATK | DEF | MGC | RES | SPD | LCK |
| --- | --- | --- | --- | --- | --- |
| 21 | 18 | 22 | 20 | 18 | 19 |