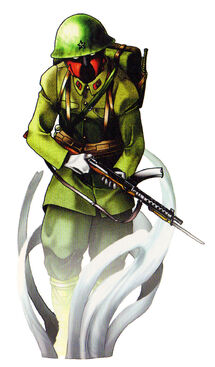 Platoon Soldier (ぶたいへい, Butaihei)? is a demon in the series.
Appearances
Edit
They are Imperial soldiers equipped with type 100 submachine guns.
Shin Megami Tensei: Devil SummonerEdit
Four Platoon Soldiers fight alongside Colonel Inui in the battle inside the Casa Inui apartments. They are the ghosts of soldiers who committed suicide in the complex.
Shin Megami Tensei: Devil SummonerEdit
| Race | Level | HP | MP | St | In | Ma | Ag | Lu |
| --- | --- | --- | --- | --- | --- | --- | --- | --- |
| Ghost | 17 | 100 | 67 | 7 | 5 | 5 | 8 | 5 |

| CP | NOA | P.ATK | P.HIT | B.DEF | AVD | M.ATK | M.DEF |
| --- | --- | --- | --- | --- | --- | --- | --- |
| - | 0-1 | 48 | 35 | 48 | 35 | 12 | 18 |