Ad blocker interference detected!
Wikia is a free-to-use site that makes money from advertising. We have a modified experience for viewers using ad blockers

Wikia is not accessible if you've made further modifications. Remove the custom ad blocker rule(s) and the page will load as expected.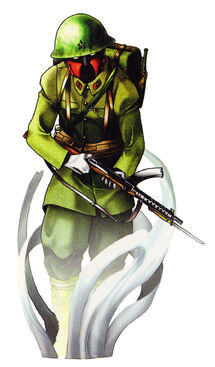 Platoon Soldier (ぶたいへい, Butaihei)? is a demon in the series.
Appearances
Edit
Shin Megami Tensei: Devil SummonerEdit
Four Platoon Soldiers fight alongside Colonel Inui in the battle inside the Casa Inui apartments. They are the ghosts of soldiers who suicided in the complex.
Shin Megami Tensei: Devil SummonerEdit
| Race | Level | HP | MP | St | In | Ma | Ag | Lu |
| --- | --- | --- | --- | --- | --- | --- | --- | --- |
| Ghost | 17 | 100 | 67 | 7 | 5 | 5 | 8 | 5 |

| CP | NOA | P.ATK | P.HIT | B.DEF | AVD | M.ATK | M.DEF |
| --- | --- | --- | --- | --- | --- | --- | --- |
| - | 0-1 | 48 | 35 | 48 | 35 | 12 | 18 |