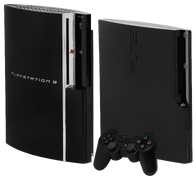 The PlayStation 3,(プレイステーション3?) officially abbreviated as PS3, is the third home video game console produced by Sony Computer Entertainment as part of the PlayStation series, preceded by the PlayStation 2 and succeeded by the PlayStation 4.
Major features of the console include its unified online gaming service, the PlayStation Network, its robust multimedia capabilities, connectivity with the PlayStation Portable and PlayStation Vita and its use of the Blu-ray Disc as its primary storage medium.
The following games are available from the PlayStation Store:
Ad blocker interference detected!
Wikia is a free-to-use site that makes money from advertising. We have a modified experience for viewers using ad blockers

Wikia is not accessible if you've made further modifications. Remove the custom ad blocker rule(s) and the page will load as expected.