Ad blocker interference detected!
Wikia is a free-to-use site that makes money from advertising. We have a modified experience for viewers using ad blockers

Wikia is not accessible if you've made further modifications. Remove the custom ad blocker rule(s) and the page will load as expected.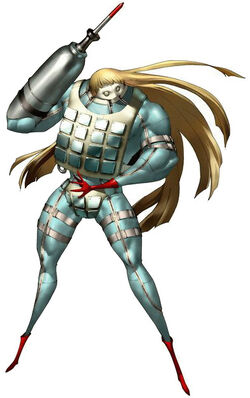 Polydeuces (ポリデュークス?) is a Persona in the series.
Polydeuces (also known as Pollux) was the twin brother of Castor. Both Castor and Polydeuces had the same mother, Leda, but Polydeuces' father was Zeus, while Castor's father was a mortal man named Tyndareus; because of this, Castor was mortal while Polydeuces was immortal. When Castor died, Polydeuces asked Zeus to let him share his own immortality with his twin to keep them together and they were transformed into the Gemini constellation.
Appearances
Edit
Persona 3Edit
Arcana

Level

| | | |
| --- | --- | --- |
| Strength | 9 | |
| Magic | 10 | |
| Endurance | 8 | |
| Agility | 9 | |
| Luck | 7 | |

Emperor
12
| Inherit | Reflects | Absorbs | Block | Resists | Weak |
| --- | --- | --- | --- | --- | --- |
| n/a | - | - | - | Elec | Ice |
List of Skills

Skill
Cost
Effect
Level
Sonic Punch
9% HP
Deals light Strike damage to one foe.
Innate
Zio
4 SP
Deals light Elec damage / Shocks one foe. (10% chance)
Innate
Dia
4 SP
Slightly restores 1 ally's HP.
Innate
Tarunda
6 SP
Decreases 1 foe's Attack.
16
Mazio
8 SP
Deals light Elec damage / Shocks all foes. (8% chance)
21
Rakunda
6 SP
Decreases 1 foes' Defense.
25
Zionga
8 SP
Deals medium Elec damage / Shocks one foe. (10% chance)
29
Sukunda
6 SP
Decreases 1 foe's Hit/Evasion rate.
33
Elec Boost
Passive
Strengthens Elec attacks by 25%.
37
Diarama
8 SP
Moderately restores 1 ally's HP.
38
Mazionga
16 SP
Deals medium Elec damage / Shocks all foes. (8% chance)
41
Persona Q: Shadow of the LabyrinthEdit
Arcana

Level

| | | |
| --- | --- | --- |
| Strength | 8 | |
| Magic | 8 | |
| Endurance | 7 | |
| Agility | 7 | |
| Luck | 7 | |

Emperor
1
| Reflects | Absorbs | Void | Resists | Weak |
| --- | --- | --- | --- | --- |
| - | - | - | Elec | Ice |
List of Skills

Skill
Cost
Effect
Level
Zio
8 SP
A light Elec attack. (1 enemy)
Innate
Tarunda
8 SP
Lower attack for 3 turns. (1 enemy)
3
Death Counter
54 HP
Counter-attack whenever user's row is attacked, for 3 turns.
10
Zionga
28 SP
A medium Elec attack. (1 enemy)
16
Matarunda
18 SP
Lower attack for 3 turns. (All enemies)
27
Ziodyne
46 SP
A heavy Elec attack. (1 enemy)
40
Arcana

Level

| | | |
| --- | --- | --- |
| Strength | 96 | |
| Magic | 80 | |
| Endurance | 73 | |
| Agility | 76 | |
| Luck | 67 | |

Emperor
99
| Reflects | Absorbs | Void | Resists | Weak |
| --- | --- | --- | --- | --- |
| - | - | - | Elec | Ice |
List of Skills

Skill
Cost
Effect
Level
Death Counter
54 HP
Counter-attack whenever user's row is attacked, for 3 turns.
10
Matarunda
18 SP
Lower attack for 3 turns. (All enemies)
27
Ziodyne
46 SP
A heavy Elec attack. (1 enemy)
40
Concept Artwork
Concept anime sketch of Polydeuces in Persona 3 The Movie
Movie concept artwork of Polydeuces
Polydeuces's Persona 3 The Movie concept design
Polydeuces in Persona 3 The Movie
Polydeuces in battle against Arcana Hermit
Polydeuces in Persona 3 Manga
Polydeuces in Side P3