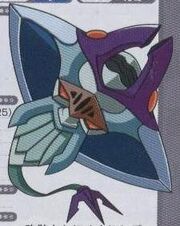 Poseidon (ポセイドン, Poseidon) is a demon in the series.
Poseidon was the god of the sea and, as "Earth-Shaker," of earthquakes in Greek mythology. The name of the sea-god Nethuns in Etruscan was adopted in Latin for Neptune in Roman mythology: both were sea gods analogous to Poseidon. Linear B tablets show that Poseidon was venerated at Pylos and Thebes in pre-Olympian Bronze Age Greece, but he was integrated into the Olympian gods as the brother of Zeus and Hades. Poseidon has many children. There is a Homeric hymn to Poseidon, who was the protector of many Hellenic cities, although he lost the contest for Athens to Athena.
Appearances
Edit
DemiKids: Light & DarkEdit
"The mighty monarch of the seven seas and the absolute ruler of all sea demons."
—DemiKids Demonary
Poisedon can perform the water combo Acid Rain with Hydron and has the power WaterHoard.
DemiKids: Light & DarkEdit
| Class | Element | Type | Exp | Level | HP | MP |
| --- | --- | --- | --- | --- | --- | --- |
| King | Water | Good | 350 | 29 | 312 | 134 |

| ATK | DEF | MGC | RES | SPD | LCK |
| --- | --- | --- | --- | --- | --- |
| 26 | 24 | 26 | 26 | 23 | 22 |
List of Skills

Skill
Element
Cost
Effect
Tidal Wave
Water
25 HP
Small dmg. Foes
Spellguard
Light
6 MP
RES Up. Party
Double Hit
Dark
10 HP
Hit x2. 1 Foe
Healmor All
Light
18 MP
Major HP recovery. Party
Defboost
Light
6 MP
DEF Up. Party
Chaos Foam
Water
25 HP
Medium dmg +Confuse. 2 Foes
Devil Children Fire/Ice BookEdit
| Class | Element | Type | Exp | Level | HP | MP |
| --- | --- | --- | --- | --- | --- | --- |
| King | Water | Good | 350 | 29 | 312 | 134 |

| ATK | DEF | MGC | RES | SPD | LCK |
| --- | --- | --- | --- | --- | --- |
| 26 | 24 | 26 | 26 | 23 | 22 |
List of Skills

Tidal Wave
Magukaja
Double Hit
Mediala
Rakukaja
Niji no Awa