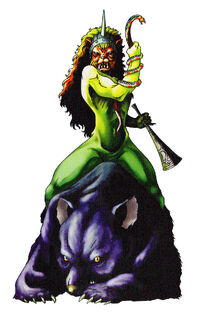 Purson (プルソン, Puruson) is a demon in the series
Purson is the 20th demon listed in Ars Goetia and a Great King of Hell, being served and obeyed by 22 legions of demons. He knows of hidden things, can find treasures, and tells past, present and future. Taking a human or aerial body he answers truly of all secret and divine things of Earth and the creation of the world. He also brings good familiars.
Purson is depicted as a man with the face of a lion, carrying a ferocious viper in his hand, and riding a bear. Before him there can be heard many trumpets sounding. According to the Grand Grimoire, he is a direct subordinate of Fleurety.
Appearances
Edit
Shin Megami Tensei: Devil SummonerEdit
| Strength | Intelligence | Magic | Endurance | Agility | Luck |
| --- | --- | --- | --- | --- | --- |
| 13 | 8 | 11 | 13 | 7 | 6 |
| Personality | Phys Attack | Phys Hit | Base Defense | Avoid | Mgc Attack | Mgc Defense |
| --- | --- | --- | --- | --- | --- | --- |
| Vigorous | 108 | 72 | 108 | 71 | 26 | 37 |
Giten Megami Tensei: Tokyo MokushirokuEdit
| CP | Intuition | Will Power | Magic | Intelligence | Divine Protection |
| --- | --- | --- | --- | --- | --- |
| 69 | 22 | 25 | 46 | 42 | 21 |

| Strength | Stamina | Agility | Dexterity | Charm |
| --- | --- | --- | --- | --- |
| 49 | 42 | 27 | 28 | 24 |