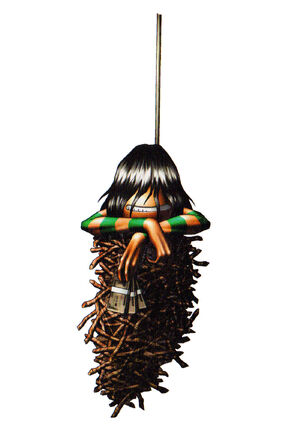 Puts (プッツ) is a demon in the series.
Australian mythology. Will appear in front of woodsmen to teach them what trees to cut. Following their instructions yields gold, but if they are defied, they'll die.
Appearances
Edit
Devil Summoner: Soul HackersEdit
"A fairy said to live in the forests of Australia, telling timber cutters which tree to cut. He is white-haired and small, and often spotted on the top of fir trees. If you cut down the tree he is on, gold will come flowing out of it. If you do not listen to him, however, it is said you will lose your life.
There is a tale of a timber-cutter who brought home gold coins, only to have them turned into hazelnuts, causing him to die of shock."
—Devil Summoner: Soul Hackers 3DS Compendium
Devil Children: Fire/Ice BookEdit
A Puts resides in Tenkai in Fire Book, where he will fuse Strawberry Frost, Melon Frost, and Lemon Frost into Frost Trio if they are brought to him.
Devil Summoner: Soul HackersEdit
| Race | Level | HP | MP | CP | MAG Summon |
| --- | --- | --- | --- | --- | --- |
| Jirae | 18 | 165 | 58 | 4 | 286 |

| Strength | Intelligence | Magic | Endurance | Agility | Luck |
| --- | --- | --- | --- | --- | --- |
| 8 | 5 | 5 | 7 | 4 | 6 |
| Personality | Phys Attack | Phys Hit | Mgc Attack | Mgc Hit | Base Defense | Avoid |
| --- | --- | --- | --- | --- | --- | --- |
| Dumb | 52 | 30 | 44 | 14 | 66 | 30 |
| Resist | Void | Absorb | Reflect | Weak |
| --- | --- | --- | --- | --- |
| - | Strike, Gun | - | - | - |
Devil Children Fire/Ice BookEdit
| Class | Element | Type | Exp | Level | HP | MP |
| --- | --- | --- | --- | --- | --- | --- |
| General | Ghost | Earth | 267 | 25 | 270 | 125 |

| ATK | DEF | MGC | RES | SPD | LCK |
| --- | --- | --- | --- | --- | --- |
| 22 | 25 | 22 | 25 | 20 | 24 |