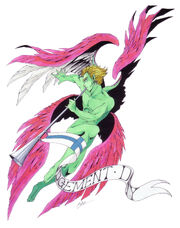 Raguel (ラグエル, Ragueru)? is a demon in the series.
Raguel is an Archangel of Judaic and Islamic lore whose name means "Friend of God." He is also known as Raguil, Rasuil, Raguhel, Ragumu, Rufael, Suryan, Askrasiel, and Thelesis. Raguel is referred to as the archangel of justice, fairness and harmony. He appears in the Book of Enoch where Raguel is one of the seven archangels whose function is to take vengeance on the world of the luminaries who have transgressed God's laws.
Appearances
Edit
Majin Tensei II: Spiral NemesisEdit
Raguel is the first boss fought in Amnesia on the Neutral, Light-Law, and Dark-Chaos Routes. He guards the base in the White Field of Sabhas.
Devil Children White BookEdit
Raguel is the main antagonist of the game, commanding the Angels and telling his servant Paku to give the power of Angels to Takaharu Ougi as a baby before the story began. Ten years later he would manipulate Takaharu and his partner Rei into attempting to destroy Makai and enslave the human world. However, Paku made a mistake in the past that would ensure Masaki Kuzuha had the power to thwart Raguel's plans. Masaki would refuse his offer to join together to rule over the human and Angel worlds once Takaharu proved useless. With all his plans foiled and no other options left, Raguel would go to Eden to resurrect the evil God Jashin.
Shin Megami Tensei IIEdit
| CP | NOA | ATK | ACC | DEF | EVA | M.ATK | M.EFC |
| --- | --- | --- | --- | --- | --- | --- | --- |
| 96 | 1 | 106 | 74 | 100 | 73 | 14 | 13 |

| | | |
| --- | --- | --- |
| St | 13 | |
| In | 10 | |
| Ma | 12 | |
| Vi | 10 | |
| Ag | 9 | |
| Lu | 9 | |
Swd
Gun
Fir
Ice
Elc
For
Nrv
Exp
Crs
Mgc
Bnd
Rsh
Hnd
Leg
Fly
Alm

5

/

8

7

/

8
-
-
-
-
-
Nu
-
-
-

3

/

8

4

/

8

4

/

8

4

/

8
-
List of Skills

Skill
Cost
Effect
Agilao
7 MP
Medium fire damage to a single foe.
Pulinpa
2 MP
Inflicts Panic ailment, 1-3 foes.
Dekaja
10 MP
Removes all buffs, all foes.
Recarm
12 MP
Revives with 1/4 HP, one ally.
Holy Wrath
80 MP
Damages all participants in battle - foes lose 1/4 HP, user loses 1/8 HP
Shin Megami Tensei: if...Edit
| CP | NOA | ATK | ACC | DEF | EVA | M.ATK | M.EFC |
| --- | --- | --- | --- | --- | --- | --- | --- |
| 60 | 1 | 112 | 76 | 102 | 75 | 14 | 13 |

| | | |
| --- | --- | --- |
| St | 16 | |
| In | 10 | |
| Ma | 12 | |
| Vi | 11 | |
| Ag | 10 | |
| Lu | 10 | |
Swd
Gun
Fir
Ice
Elc
For
Nrv
Exp
Crs
Mgc
Bnd
Rsh
Hnd
Leg
Fly
Alm
-
-
-

5

/

8

5

/

8
-
Nu
Nu
Nu

1

/

8

1

/

8
-
-
-
-
-
List of Skills

Skill
Cost
Effect
Mega Strike
25% HP
Massive Sword damage to one foe. May instantly kill.
Recarm
19 MP
Revives with 1/4 HP, one ally.
Dekunda
5 MP
Removes all debuffs, all allies.
Holy Wrath
108 MP
All participants in battle receive 1/8 of their current HP as damage *.
Agidyne
15 MP
Heavy Fire damage to a single foe
Shin Megami Tensei: 20XXEdit
| CP | NOA | ATK | ACC | DEF | EVA | M.ATK | M.EFC |
| --- | --- | --- | --- | --- | --- | --- | --- |
| 60 | 1 | 112 | 77 | 102 | 76 | 15 | 13 |

| | | |
| --- | --- | --- |
| St | 16 | |
| In | 10 | |
| Ma | 12 | |
| Vi | 11 | |
| Ag | 10 | |
| Lu | 10 | |
Majin Tensei II: Spiral NemesisEdit
| Race | Level | HP | MP | Mv Range | Mv Type | Atk Range | MAG |
| --- | --- | --- | --- | --- | --- | --- | --- |
| Herald | 87 | 398 | 130 | 9 | Flight | 1 | 870 |

| St | Ma | In | Ag | Lu | Atk | P.Def | M.Atk | M.Def | Hit | Eva | Crt |
| --- | --- | --- | --- | --- | --- | --- | --- | --- | --- | --- | --- |
| 22 | 25 | 18 | 11 | 16 | 90 | 24 | 75 | 59 | 94 | 15 | 18 |
Devil Children White BookEdit
| Class | Element | Type | Level | HP | MP | Exp |
| --- | --- | --- | --- | --- | --- | --- |
| Elite | Light | Holy | 48 | 2200 | 992 | |
| ATK | DEF | MGC | RES | SPD | LCK |
| --- | --- | --- | --- | --- | --- |
| 48 | 48 | 49 | 51 | 46 | 52 |
| Class | Element | Type | Level | HP | MP | Exp |
| --- | --- | --- | --- | --- | --- | --- |
| Elite | Light | Holy | 48 | 550 | 248 | 948 |
| ATK | DEF | MGC | RES | SPD | LCK |
| --- | --- | --- | --- | --- | --- |
| 48 | 48 | 49 | 51 | 46 | 52 |
List of Skills

Light Spear
Saint Attack
Makarakarn
Mazio
Mediarahan
Recarm