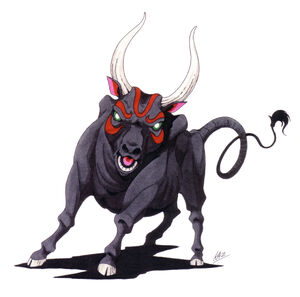 Rakcharango (ラクチャランゴ?) is a demon in the series.
A bull monster from Tibetan folklore. It has an entirely blood red skin and its forehead is marked with an emblem of demons.
Appearances
Edit
Shin Megami TenseiEdit

"Origin: Tibet. A bull monster that is said to dwell in Tibet. It's a demonic beast with a demon's crest engraved on its forehead. Also, its body is said to be red, as if it was drenched in blood."
—Shin Megami Tensei A-Mode DDS Dictionary
Kyūyaku Megami TenseiEdit
Megami Tensei IIEdit
| Race | Level | HP | MP | VIT | INT | STR | SPD | LUC | DEF |
| --- | --- | --- | --- | --- | --- | --- | --- | --- | --- |
| Holy | 41 | 456 | - | 22 | 6 | 15 | 11 | 11 | 24 |
List of Spells

Skill
Cost
Effect
Roar
Extra
Damage + Bind to all enemies
Shin Megami TenseiEdit
| CP | NOA | ATK | ACC | DEF | EVA | M.ATK | M.EFC |
| --- | --- | --- | --- | --- | --- | --- | --- |
| 24 | ? | 97 | 23 | 47 | 18 | 9 | 7 |

| | | |
| --- | --- | --- |
| St | 24 | |
| In | 6 | |
| Ma | 8 | |
| Vi | 15 | |
| Ag | 17 | |
| Lu | 12 | |
| | | | |
| --- | --- | --- | --- |
| Resistances | Weak to Guns and Fire | Drop | Bead |
List of Skills

Skill
Cost
Effect
Tackle
Extra
Charges into an enemy and damages it. (Charge-type, low accuracy)
Fire Wall
Extra
Creates a shield that negates ice magic.
Berserk
Extra
Damages one group of enemies. (Charge-type)
Last Bible IIIEdit
| Level | HP | MP | ATK | DEF | STR | INT | END | SPD | LUC |
| --- | --- | --- | --- | --- | --- | --- | --- | --- | --- |
| 43 | 651 | 159 | 129 | 66 | 23 | 14 | 24 | 20 | 13 |

| | | | |
| --- | --- | --- | --- |
| Equipment | Weapon, Accessory | Card Location | Ancient City |
Majin TenseiEdit
| Race | Level | HP | MP | Mv Range | Mv Type | Atk Type | CP |
| --- | --- | --- | --- | --- | --- | --- | --- |
| Beast | 18 | 195 | 0 | 8 | Forest | | 6 |

| Strength | Magic | Technique | Defense | Agility | Luck |
| --- | --- | --- | --- | --- | --- |
| 11 | 8 | 9 | 7 | 6 | 6 |
Majin Tensei II: Spiral NemesisEdit
| Race | Level | HP | MP | Mv Range | Mv Type | Atk Range | MAG |
| --- | --- | --- | --- | --- | --- | --- | --- |
| Beast | 34 | 154 | 0 | 10 | Walk | 1-2 | 400 |

| St | Ma | In | Ag | Lu | Atk | P.Def | M.Atk | M.Def | Hit | Eva | Crt |
| --- | --- | --- | --- | --- | --- | --- | --- | --- | --- | --- | --- |
| 16 | 8 | 6 | 17 | 12 | 52 | 16 | 8 | 11 | 91 | 11 | 16 |
List of Skills

Skill
Power
Range
Cost
Target
Effect
Poison Scratch
200%
1
P. Extra
Multi
70% chance to inflict Poison
| Race | Level | HP | MP | Mv Range | Mv Type | Atk Range | Arcana |
| --- | --- | --- | --- | --- | --- | --- | --- |
| Beast | 23 | 216 | 50 | 4 | Ground | 1 | - |
| St | Ma | In | Ag | Lu | Atk | P.Def | M.Def |
| --- | --- | --- | --- | --- | --- | --- | --- |
| 11 | 15 | 7 | 14 | 8 | 104 | 42 | 29 |
| Slash | Strike | Ranged | Fire | Ice | Elec | Light | Dark | Almi |
| --- | --- | --- | --- | --- | --- | --- | --- | --- |
| - | +25% | - | - | - | +25% | - | - | - |