Ad blocker interference detected!
Wikia is a free-to-use site that makes money from advertising. We have a modified experience for viewers using ad blockers

Wikia is not accessible if you've made further modifications. Remove the custom ad blocker rule(s) and the page will load as expected.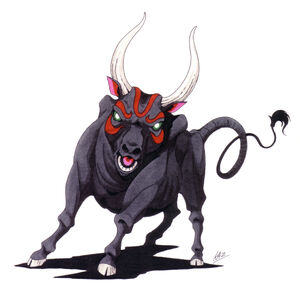 Rakcharango (ラクチャランゴ?) is a demon in the series.
A bull monster from Tibetan folklore. It has an entirely blood red skin and its forehead is marked with an emblem of demons.
Appearances
Edit
Shin Megami TenseiEdit

"

Origin: Tibet. A bull monster that is said to dwell in Tibet. It's a demonic beast with a demon's crest engraved on its forehead. Also, its body is said to be red, as if it was drenched in blood.

"
—Shin Megami Tensei A-Mode DDS Dictionary
Kyūyaku Megami TenseiEdit
Megami Tensei IIEdit
| Race | Level | HP | MP | VIT | INT | STR | SPD | LUC | DEF |
| --- | --- | --- | --- | --- | --- | --- | --- | --- | --- |
| Holy | 41 | 456 | - | 22 | 6 | 15 | 11 | 11 | 24 |
List of Spells

Skill
Cost
Effect
Roar
Extra
Damage + Bind to all enemies
Shin Megami TenseiEdit
| CP | NOA | ATK | ACC | DEF | EVA | M.ATK | M.EFC |
| --- | --- | --- | --- | --- | --- | --- | --- |
| 24 | ? | 97 | 23 | 47 | 18 | 9 | 7 |

| | | |
| --- | --- | --- |
| St | 24 | |
| In | 6 | |
| Ma | 8 | |
| Vi | 15 | |
| Ag | 17 | |
| Lu | 12 | |
| | | | |
| --- | --- | --- | --- |
| Resistances | Weak to Guns and Fire | Drop | Bead |
List of Skills

Skill
Cost
Effect
Tackle
Extra
Charges into an enemy and damages it. (Charge-type, low accuracy)
Fire Wall
Extra
Creates a shield that negates ice magic.
Berserk
Extra
Damages one group of enemies. (Charge-type)
Last Bible IIIEdit
| Level | HP | MP | ATK | DEF | STR | INT | END | SPD | LUC |
| --- | --- | --- | --- | --- | --- | --- | --- | --- | --- |
| 43 | 651 | 159 | 129 | 66 | 23 | 14 | 24 | 20 | 13 |

| | | | |
| --- | --- | --- | --- |
| Equipment | Weapon, Accessory | Card Location | Ancient City |
Majin TenseiEdit
| Race | Level | HP | MP | Mv Range | Mv Type | Atk Type | CP |
| --- | --- | --- | --- | --- | --- | --- | --- |
| Beast | 18 | 195 | 0 | 8 | Forest | | 6 |

| Strength | Magic | Technique | Defense | Agility | Luck |
| --- | --- | --- | --- | --- | --- |
| 11 | 8 | 9 | 7 | 6 | 6 |
Majin Tensei II: Spiral NemesisEdit
| Race | Level | HP | MP | Mv Range | Mv Type | Atk Range | MAG |
| --- | --- | --- | --- | --- | --- | --- | --- |
| Beast | 34 | 154 | 0 | 10 | Walk | 1-2 | 400 |

| St | Ma | In | Ag | Lu | Atk | P.Def | M.Atk | M.Def | Hit | Eva | Crt |
| --- | --- | --- | --- | --- | --- | --- | --- | --- | --- | --- | --- |
| 16 | 8 | 6 | 17 | 12 | 52 | 16 | 8 | 11 | 91 | 11 | 16 |
List of Skills

Skill
Power
Range
Cost
Target
Effect
Poison Scratch
200%
1
P. Extra
Multi
70% chance to inflict Poison
| Race | Level | HP | MP | Mv Range | Mv Type | Atk Range | Arcana |
| --- | --- | --- | --- | --- | --- | --- | --- |
| Beast | 23 | 216 | 50 | 4 | Ground | 1 | - |
| St | Ma | In | Ag | Lu | Atk | P.Def | M.Def |
| --- | --- | --- | --- | --- | --- | --- | --- |
| 11 | 15 | 7 | 14 | 8 | 104 | 42 | 29 |
| Slash | Strike | Ranged | Fire | Ice | Elec | Light | Dark | Almighty |
| --- | --- | --- | --- | --- | --- | --- | --- | --- |
| - | +25% | - | - | - | +25% | - | - | - |